THE HEART OF EVERY HOME
Probably the busiest area of the whole house, kitchen cabinet can be considered as the household hub for its multitude of function.
From traditional white color English style cabinet to a vibrant modern glossy type, we have plenty of design options for you.
Melamine
Melamine starts with a compressed wood particle core. It is then covered with a resin and paper finish that can be manufactured to embody various styles and colours (High-Pressure Laminate/HPL). For more information about this product kindly contact us.
PROS
Easy to clean
Large Variety
Uniform Finish
Low Cost
CONS
Heavy
Melamine can chip
Looks cheap
Susceptible to Water Damage
Visible edging lines
Laminate
Laminate is a synthetic coating glued to the cabinet box and/or doors. Usually craft paper and resin fused with heat (High-Pressure Laminate/HPL), it can be manufactured in a wide variety of colors, patterns and textures, including wood grain. For more information about this product kindly contact us.
PROS
Laminated door is more durable compared to Melamine door
Easy to clean
Wide variety
Uniform finish
Looks elegant
CONS
Laminate can chip
More pricey compared to Melamine
Susceptible to water damage but better than Melamine
Visible edging lines
3G/4G Glass
3G/4G door is actually an aluminium frame door with spray glass supported with a board at the back so this type of door is more tough and heavy. 3g door have a thick aluminium frame edging and cheaper while 4G door have none of the aluminium edging but more expensive. For more information about this product kindly contact us.
PROS
Shining effect is better compared to acrylic
Easy to clean
Modern look
CONS
Glass can break and shattered
Visible frame edging
3G/4G Acrylic
3G/4G door is actually an aluminium frame door with spray acrylic supported with a board at the back so this type of door is more tough and heavy. 3g door have a thick aluminium frame edging and cheaper while 4G door have none of the aluminium edging but more expensive. For more information about this product kindly contact us.
PROS
Shining effect is less compared to glass
Easy to clean
Modern look
More durable compared to glass
Half as heavy as glass and will not break
CONS
Acrylic can scratch
Visible frame edging
PU Spray
Polyurethane painting, also widely known as P.U. painting. P.U. is a plastic-based resin which provides a flawless and glossy finish when it is used for painting and higher quality finishes than normal spray painting. For more information about this product kindly contact us.
PROS
No visible edging line
Durable
Water and chemical resistant
Modern and classic looks can be done
Elegant and stunning looks
Any colour that you want
CONS
Expensive
More time consuming to finish the project
Only can be done on MDF surface or Solid Wood surface
Membrane Press
Membrane Press (or vinyl wrap) is a thin vinyl sheet that is vacuum sealed against a particle board or MDF sheet. For more information about this product kindly contact us.
PROS
Budget option
No invisible edges
Can be wrapped around a variety of  edge profiles and in routed-pattern door fronts
CONS
Not last long
Cannot be repaired
Susceptible to heat
Can bubble or peel at the edges
Solid Wood
Solid Wood with modern style. Comes with nyatoh or semangkok types with PU spray finish or lacquer finish. For more information about this product kindly contact us
PROS
Versatile looks with wide profile styles and colors
Highly durable
Smooth finish with PU spray or lacquer
No invisible edging lines
Cabinets can be re-stained or painted to give a new look
CONS
Expensive
Not suitable for modern contemporary concept
They expand and contract with changing humidity and can warp over time
They are more difficult to clean, usually requiring special products designed for wood cleaning
Counter-Top Type Selection
Wood or concrete? Natural or engineered stone? Stainless steel or marble? The worktop you choose will have a huge impact on both the look and functionality of your kitchen. So, before you buy, ask yourself some key questions. What look do you want to achieve? Are you keen on a smooth, sleek finish, or is an aged patina more your style? What kind of cook are you? Do you like to have everything out and strewn around, or do you clean and tidy as you go? Do you have a big, busy family, or lots of dinner parties, or are you preparing meals for one or two? This will have an impact on how extensive and how robust your worktop needs to be.
Laminate
Laminate is the most widely used and cheapest countertop material in home improvement
ADVANTAGES
It is inexpensive and low-maintenance. It resists grease and stains, and it comes in a vast array of colours and patterns. It also can come pre-fabricated with its own seamless backsplash. It is ideal for the do-it-yourselfer who loves to update the kitchen frequently. However, note that if you have allergies or asthma, the materials and glue in laminate could be problematic.
DISADVANTAGES
Laminate does have its drawbacks. Because it is generally made in layers, the dark under layer, usually pressed wood, may be visible. The top is also susceptible to damage from sharp knives and hot pans. It easily melts at the touch of a hot cooking utensil, and once damaged, it cannot be easily repaired. To keep laminate looking new longer, reserve this countertop material for less-used areas of the kitchen and locate seams at corners to avoid wear and tear.
Ceramic Tiles
Beautiful and durable, ceramic tile  is the experienced do-it-yourself dream come true. You can make a counter look however you want with a little creativity. Create your own mural, or decide on a sleek color palette. Designs can range from as simple or complex as you desire. ADVANTAGES Ceramic tile is heat-, scratch-, and stain-resistant. Damaged tiles are easily replaced. Plus, you can remove stains from regular grout with ordinary household bleach. Another benefit of using this type of tile on your counter-top is that it is not very expensive compared to a granite or quartz slab. DISADVANTAGES Grout can stain or collect food particles, therefore giving way to bacterial infestation. Tiles can chip or crack, and if used for cutting, it can dull your knives. Scrubbing with abrasives can ruin a high-gloss finish
Concrete
Concrete has the most industrial aesthetic of all the worktop materials. 'Concrete work surfaces are very now and very tactile – people are drawn to touch them.
There's a surprisingly large range of colors available beyond classic grey, and it can be shaped to run around pillars or form sinks, for instance.
However, it isn't as robust as some other materials, and it isn't seamless, as expansion joints often need to be incorporated. 'The main reason for choosing concrete is aesthetic
ADVANTAGES
Nothing quite beats it for adding edge to a 'safe' scheme. It can be formed into any shape and can be repaired or stripped back to remove stains. It gets tougher as it ages, and makes a great in/out material if you want your worktop to continue out onto a patio.
DISADVANTAGES
If you opt for a concrete worktop, your kitchen will be out of action for a while. Concrete worktops tend to be poured in situ (although simple shapes can be made off-site), and it takes a couple of weeks for it to be ready to use. It stains easily and needs to be treated with a penetrative sealant every six to eight months.
Solid Surface
A solid-surface counter-top is a step up from plastic laminate. It comes in a larger variety of colors and patterns that are uniform throughout the piece. It can resemble glass, granite, and any other stone.
ADVANTAGES
Because the color goes through the entire counter, scratches and blemishes can easily be buffed out. It is strong and self-supporting, so it needs no underlayment. It is non-porous. It resists both mildew and stains. This counter-top can also be ordered custom-formed to hide seams.
Economic wise, it's a cheaper option compared to granite, quartz or wood slab counter-top.
DISADVANTAGES
Some of the darker colors are not recommended for kitchens as scratches show up too much. The area around a sink can discolor or crack over time. It can't take hot pans, although round bars can be set into the surface to act as a trivet.
Granite

Granite is the most popular stone for worktops and gives a quality feel to kitchens. The vast range of shades and patterns available means each surface feels unique, and there are choices perfect for modern and traditional kitchens alike. If a bit of sparkle and shine pleases your eye, granite is a good choice. As it's natural stone, each worktop is individual
ADVANTAGES
It's very tough, and resistant to heat and mould. It's often cheaper than engineered stone and composites
DISADVANTAGES
It's porous, so needs to be sealed – ideally every six months. It's heavy, so needs to be sitting on good cabinets. If it's damaged, it can't be repaired.
Quartz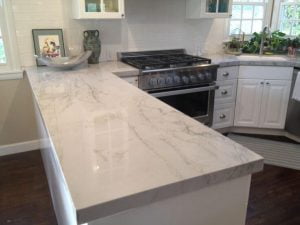 Quartz, or engineered stone, worktops are made from 93% Quartz and 7% polymer resins. Quartz is a good alternative to granite for buyers who want something a little more low-maintenance
ADVANTAGES
It's available in roughly 100 colors and a huge range of finishes, from glossy to matte, plain to flecked or sparkly – and even ones that mimic concrete. The color is more even and consistent than with granite, so it's good for long stretches of the worktop.
It's up to five times harder than granite and non-porous, so there's no danger of mould. It's low maintenance, and stain- and chip-resistant.
DISADVANTAGES
It's very heavy thus need proper reinforcement on the cabinet to support it. Seams between joining can be visible if it's not properly installed and exposure over time can cause discoloration to it
From economic point of view, quartz is expensive than other options
Solid Wood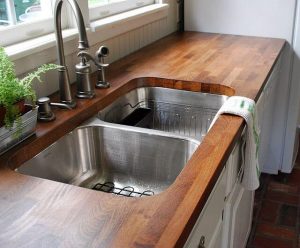 Wooden worktops, whether in a delicate merbau or javanese butcherblock, can really make a kitchen feel like that overused phrase, "the heart of the home". They instantly add a warm, natural feel to any kitchen, and look fantastic with a wide range of complimentary colors. They are more high-maintenance than man-made worktop materials, however, so it is worth considering whether you will have the time to give them the care they need.
ADVANTAGES
Each piece is unique, giving your kitchen its own particular character. Timber is naturally antibacterial, relatively simple to install and easy to repair. If you're willing to oil it frequently, it can be robust and beautiful.
DISADVANTAGES
It must be sealed or frequently treated with mineral oil and cleaned immediately after food preparation or moisture exposure. And, protective surface sealers are not always food-safe. It is humidity sensitive, and it scorches and dents easily. If it becomes contaminated with meat juices or dirty vegetables, it must be disinfected and then resealed. Many cooks use olive oil to season the wood after each use; however this can also darken the wood.
Body Carcass Type Selection
Particle (Chip) Board
Simply put, particle board is a waste-wood product made by heat pressing wood chips, sawmill shavings, or even sawdust and resin together. To make the end product water resistant, fireproof, and/or insect-proof chemicals are used including wax, dyes, wetting agents, and release agents. After the resin, chemicals, and wood scraps have been mixed together, the liquid mixture is made into a sheet. The weight of the wood chips is evenly distributed to make sure the finished board is not top heavy. Compression is applied to the particle board sheet multiple times to create the tightest possible bond between the resin and the wood bits
ADVANTAGES
Low Cost
Perfect for Ready-Made Furniture
Used by 95% as body carcass by Malaysian contractors
DISADVANTAGES
Low Strength – Cannot Support Heavy Loads
Easily bends
Not as Eco-Friendly as Wood Furniture
Expands or Discolors Due to Moisture
Heavy
MDF Board
MDF is Medium density fibreboard.  It is a type of mechanically manufactured wood product formed by breaking down hardwood or softwood residuals into wood fibres and then by combining by wax/glue. and pressing it under heat and pressure. It is stronger and much denser than normal particle board.
ADVANTAGES
The board can be moulded easily
Medium density
Less expensive than hardwood and solid wood
Stainable and Paintable
DISADVANTAGES
MDF does not have good strength when compared to solid wood so make sure it is not used in applications where heavy load is expected to be borne by the board
MDF boards also do not have very good holding strength for nails/screws. If a furniture piece needs to be moved frequently or dismantled and then rebuilt frequently then the MDF board might loose the grip on the nails.
Expands or Discolors Due to Moisture
Blockboard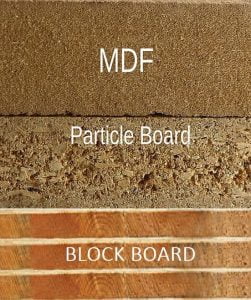 Blockboard is a type of board made by wooden pieces inserted between ply of hardwood which bonded together under a high pressure and temperature
ADVANTAGES
Block boards are light in weight and comes with a high strength
Easy to handle and work with
Less Susceptible to Water Damage
Stainable and Paintable
Holds Screws Well
DISADVANTAGES