THE HEART OF EVERY HOME
Probably the busiest area of the whole house, kitchen cabinet can be considered as the household hub for its multitude of function.
From traditional white color English style cabinet to a vibrant modern glossy type, we have plenty of design options for you.
Kitchen Cabinet

Counter Top

Interior Design

Design & Build

Cabinet Works

Wardrobe

renovation

home design

contractor

carpentry
Melamine
Laminate
3G/4G Glass
3G/4G Acrylic
PU Spray
Membrane Press
Solid Wood
Melamine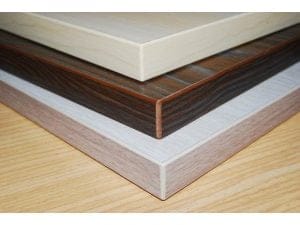 Melamine starts with a compressed wood particle core. It is then covered with a resin and paper finish that can be manufactured to embody various styles and colours (High-Pressure Laminate/HPL). For more information about this product kindly contact us.
PROS
Easy to clean
Large Variety
Uniform Finish
Low Cost
CONS
Heavy
Melamine can chip
Looks cheap
Susceptible to Water Damage
Visible edging lines
Laminate
3G/4G Glass
3G/4G Acrylic
PU Spray
Membrane Press
Solid Wood
Counter-Top Type Selection
Wood or concrete? Natural or engineered stone? Stainless steel or marble? The worktop you choose will have a huge impact on both the look and functionality of your kitchen. So, before you buy, ask yourself some key questions. What look do you want to achieve? Are you keen on a smooth, sleek finish, or is an aged patina more your style? What kind of cook are you? Do you like to have everything out and strewn around, or do you clean and tidy as you go? Do you have a big, busy family, or lots of dinner parties, or are you preparing meals for one or two? This will have an impact on how extensive and how robust your worktop needs to be.
Laminate
Ceramic Tiles
Concrete
Solid Surface
Granite
Quartz
Solid Wood
Laminate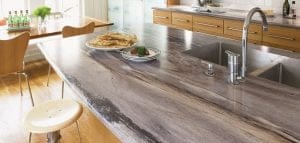 Laminate is the most widely used and cheapest countertop material in home improvement
ADVANTAGES
It is inexpensive and low-maintenance. It resists grease and stains, and it comes in a vast array of colours and patterns. It also can come pre-fabricated with its own seamless backsplash. It is ideal for the do-it-yourselfer who loves to update the kitchen frequently. However, note that if you have allergies or asthma, the materials and glue in laminate could be problematic.
DISADVANTAGES
Laminate does have its drawbacks. Because it is generally made in layers, the dark under layer, usually pressed wood, may be visible. The top is also susceptible to damage from sharp knives and hot pans. It easily melts at the touch of a hot cooking utensil, and once damaged, it cannot be easily repaired. To keep laminate looking new longer, reserve this countertop material for less-used areas of the kitchen and locate seams at corners to avoid wear and tear.
Ceramic Tiles
Concrete
Solid Surface
Granite
Quartz
Solid Wood
Body Carcass Type Selection
Particle (Chip) Board
MDF Board
Blockboard
Particle (Chip) Board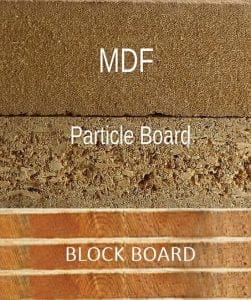 Simply put, particle board is a waste-wood product made by heat pressing wood chips, sawmill shavings, or even sawdust and resin together. To make the end product water resistant, fireproof, and/or insect-proof chemicals are used including wax, dyes, wetting agents, and release agents. After the resin, chemicals, and wood scraps have been mixed together, the liquid mixture is made into a sheet. The weight of the wood chips is evenly distributed to make sure the finished board is not top heavy. Compression is applied to the particle board sheet multiple times to create the tightest possible bond between the resin and the wood bits
ADVANTAGES
Low Cost
Perfect for Ready-Made Furniture
Used by 95% as body carcass by Malaysian contractors
DISADVANTAGES
Low Strength – Cannot Support Heavy Loads
Easily bends
Not as Eco-Friendly as Wood Furniture
Expands or Discolors Due to Moisture
Heavy
MDF Board
Blockboard