Premium Package with Affordable Price
All our design. packages include. Work with a professional Interior Designer. Our packages include one-on-one access to your own Interior Designer meaning you get all the expert help you need. Expert furniture recommendations. The best customer support. Discounts on everything you buy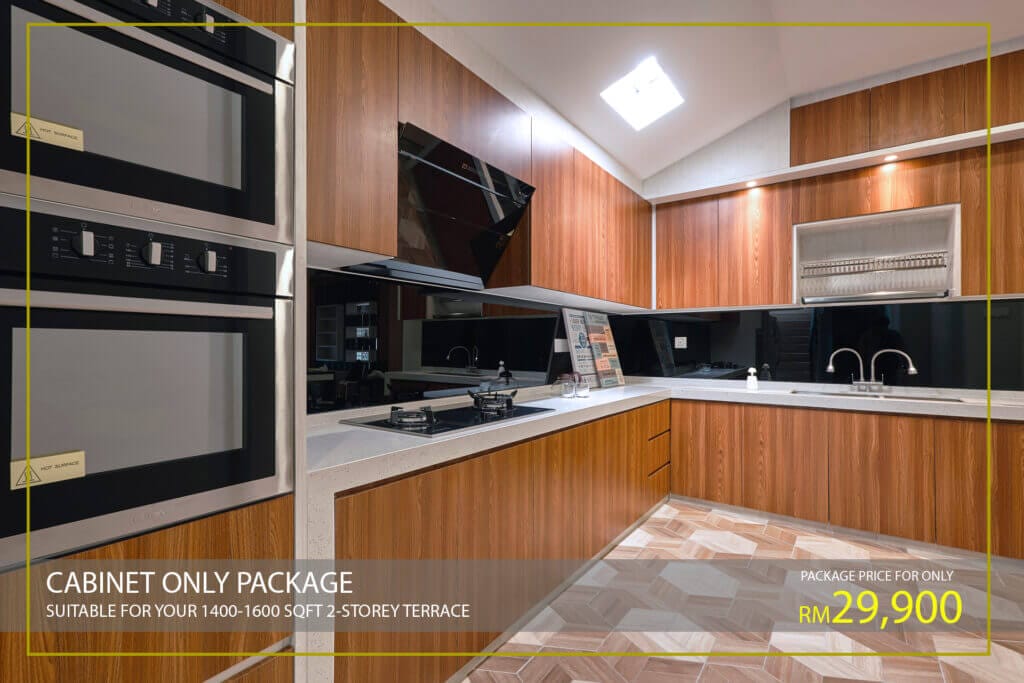 Double Storey Gold
Just right for new or old house
Kitchen Cabinet with Melamine finishes (15 feet)

Quartz Stone Countertop Finish (15 feet)

Master Bedroom Wardrobe (8 feet)

3x Room Melamine Wardrobe (5 feet)

Melamine TV Panel (8 feet)

Melamine Shoe Cabinet (5 feet)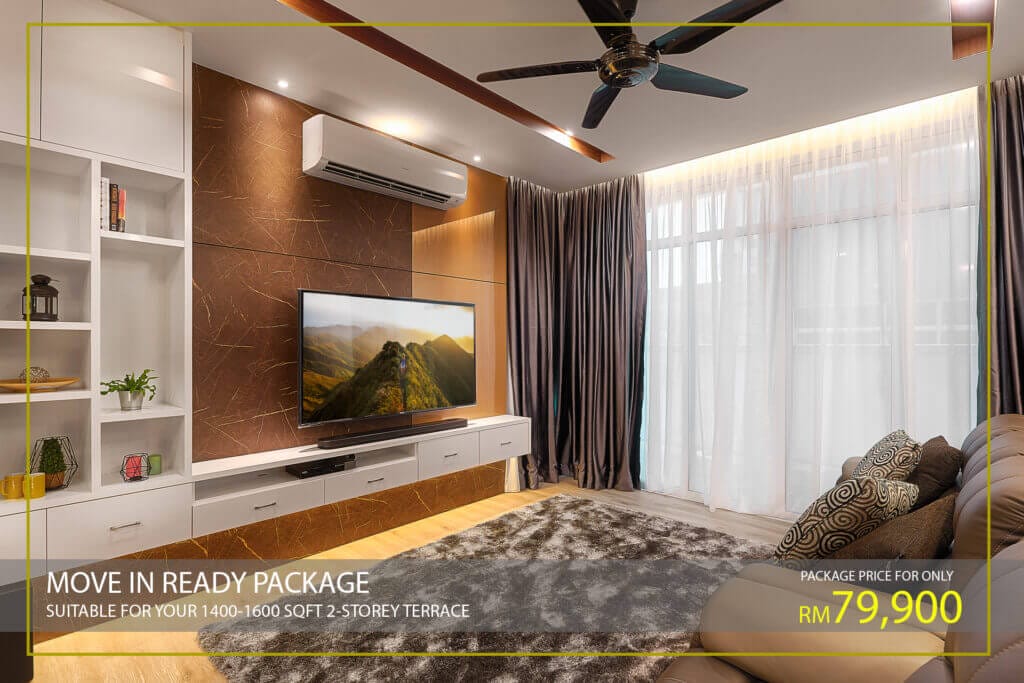 Double Storey Platinum
Complete package for new home
Kitchen Cabinet with Melamine finishes (15 feet)

Quartz Stone Countertop Finish (15 feet)

Master Bedroom Wardrobe (8 feet)

3x Room Melamine Wardrobe (5 feet)

Melamine TV Panel (8 feet)

Melamine Shoe Cabinet (5 feet)

Plaster Ceilling with L-Box

SPC Flooring with Skirting (Whole House)

Electrical Works including lighting and fan (25Point Lighting, 4 Point Fan)

Curtain (Living Area+3 Room)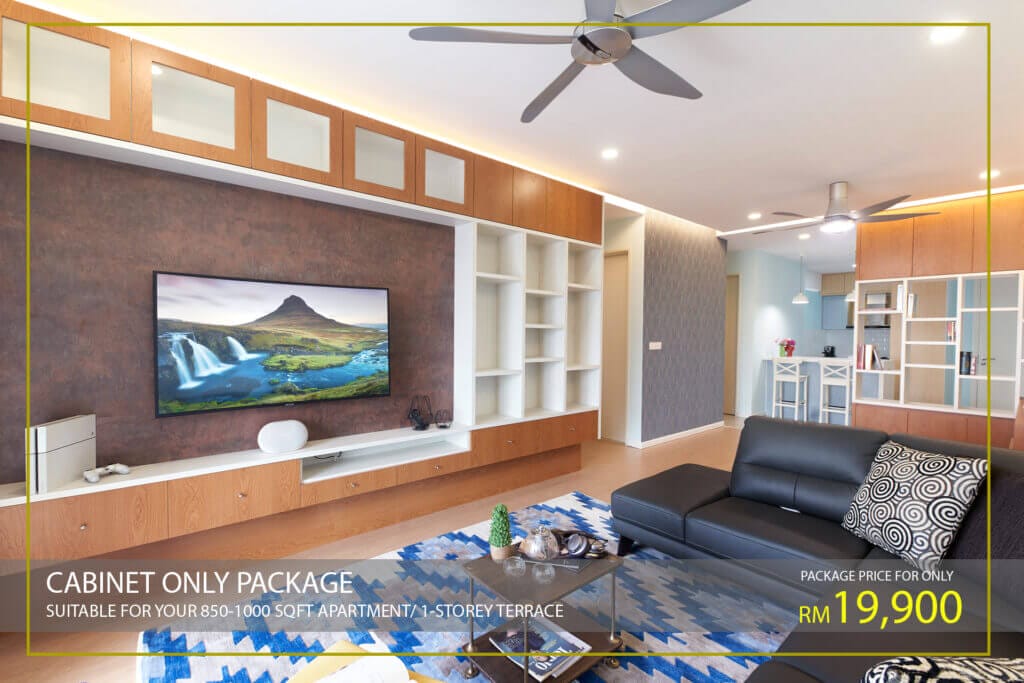 CONDO/APARTMENT Gold
Basics for Condo & High Residence
Kitchen Cabinet with Melamine finishes (10 feet)

Quartz Stone Countertop Finish (10 feet)

Master Bedroom Wardrobe (7 feet)

2x Room Melamine Wardrobe (4 feet)

Melamine TV Panel (7 feet)

Melamine Shoe Cabinet (3 feet)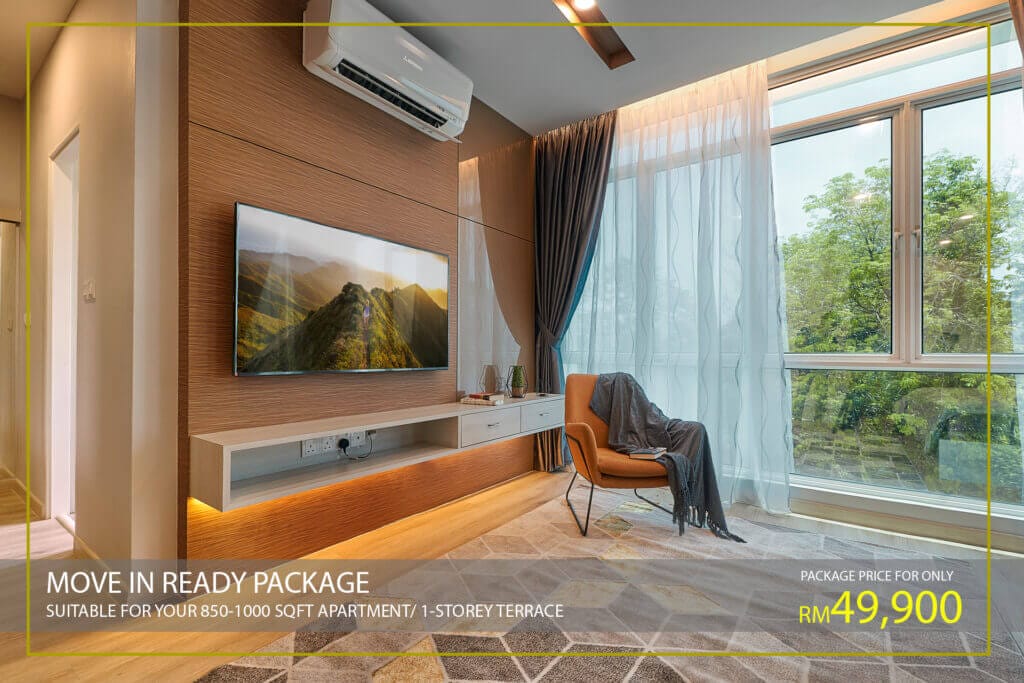 CONDO/APARTMENT PLATINUM
Perfect for Condo & High Residence
Kitchen Cabinet with Melamine finishes (10 feet)

Quartz Stone Countertop Finish (10 feet)

Master Bedroom Wardrobe (7 feet)

2x Room Melamine Wardrobe (4 feet)

Melamine TV Panel (7 feet)

Melamine Shoe Cabinet (3 feet)

Plaster Ceilling with L-Box

SPC Flooring with Skirting (Whole House)

Electrical Works including lighting and fan (20Point Lighting, 4 Point Fan)

Curtain (Living Area+3 Room)
Industrial style as the name implies, draws inspiration from a warehouse or an urban loft.
There's a sense of unfinished rawness in many of the elements, and it's not uncommon to see exposed brick, ductwork and wood. An iconic home with an industrial design theme would be a renovated loft from a former industrial building.
Think high ceilings, old timber and dangling metal light fixtures with sparse functional furniture. There may possibly be one or two pieces of abstract art or photography to add a dash of colour to an otherwise neutral colour scheme derived from the primary materials of wood and metals.
Modern is a broad design term that typically refers to a home with clean, crisp lines, a simple colour palette and the use of materials that can include metal, glass and steel.
Modern design employs a sense of simplicity in every element, including furniture. A word that's commonly used to describe modern style is sleek, and there is not a lot of clutter or accessories involved with a modern style.
Scandanavian design pays homage to the simplicity of life demonstrated in Nordic countries. Scandinavian furniture design often feels like a work of art, although it is simple and understated. There's functionality in the furniture along with some interesting lines, many of which have a sculptural influence.
Other common characteristics include all-white colour palettes and the incorporation of natural elements like form-pressed wood, bright plastics, and enameled aluminum, steel and wide plank flooring. If there are pops of colour it often comes from the use of art, natural fibre throws or furs, or a single piece of furniture. Spacious, natural lighting, less accessories and functional furniture characterizes Scandinavian designs