50 Futuristic Interior Design 2022
The futuristic design presents a minimalist future design concept, the use of clean and bright colours, and has a beautiful curved design line. Learn about characteristics of futuristic in interior design through this article!
Do not forget to follow us on Instagram & Facebook.
You can directly whatsapp us for more information, or direct call at 018.3264.788
Architectural design from time to time has its own uniqueness and characteristics. This is what makes the existing architectural designs look different. Futuristic architectural design also has its own characteristics. Here are some futuristic traits you need to know about:
50 Futuristic Interior Design 2022
The futuristic design uses unique and unusual shapes such as oval lines, sharp angles, and the use of various forms of arches in its construction.
Adopt and utilize existing technology and apply it aesthetically. For example, the construction of futuristic buildings generally uses glass elevators to make them look more modern and aesthetic, to the use of TV screens embedded in the walls to make them look neat and look seamless.
To get a thick futuristic-style design, take advantage of bright and clean colours such as white, yellow, to silver. Besides looking futuristic, these colours can give an elegant impression to the room. Combine and use a play of colour to create a contrasting and beautiful look.
To arrange a room that adopts a futuristic design, unique decorations or artwork are needed to get the impression of a more beautiful future. Use unique and abstract shaped decorations to support the futuristic design of the room.
Prioritizing Minimalist Principles
The futuristic design adopts the principle of minimalism which is simple and does not have many ornaments. The principle of minimalism also means that the room is arranged as much as possible so it doesn't look crowded.
Aerodynamic and Ergonomic Use of Furniture
Futuristic designs with minimalist principles generally use ergonomic furniture. The choice of furniture form will refer to a futuristic design that is aerodynamic and shows a modern design appearance. Futuristic furniture also has multifunctional properties, is easy to use, and can be moved around.
Use of Smooth and Glossy Materials
In a futuristic design concept, material selection is one of the important things and must be considered. To create an elegant futuristic impression, this design generally uses a material that has a slippery and shiny texture. Commonly used materials are stainless steel, glass, granite, and marble.
Use of Automation Systems
One of the supports for the current futuristic architecture is the use of an automation system or better known as a smart home system. An automation system that is connected to all components and objects in a building or house and makes it operate using only voice calls.
This automation system is applied to make it easier for homeowners to manage various aspects such as lighting, electronic equipment, to surveillance cameras easily wirelessly and via smartphones only.
50 Futuristic Interior Design 2022
READ ALSO; 50 WORST INTERIOR DESIGN FAILED
Article credit; rumah.com 
50 Futuristic Interior Design 2022
Believe it or not, Malaysia also have this futuristic buildings!
ENCORE THEATER, MELAKA
Located 3.5km from the UNESCO World heritage site of Melaka, Encore Melaka has emerged as the trendiest tourist attraction in Melaka since its opening. It is one of the most representative buildings in Melaka. Innovative style and ultra-modern looks have become a hot spot for everyone. Moreover, it is made of thousands of fish scale-like LED Panels in a very beautiful concave shape reflecting the night light of the building.
Photo credit;  YTB Impression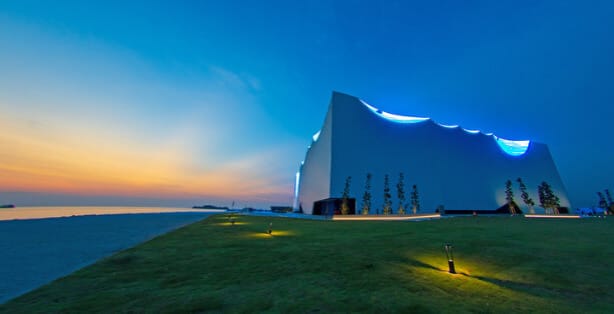 UNIVERSITI TEKNOLOGI SARAWAK, SARAWAK
UTS is the first university in Malaysia to achieve Green Building Index (GBI) Platinum.
The design of this building has a rainwater storage area that plays a role in facilitating the flow of rainwater. Like a waterfall at Changi Airport in Singapore!
Credit to; Sir kamarul
Let's have a look;