6 BEST FLOORING TYPES FOR YOUR RENOVATION AND INTERIOR DESIGN PROJECT
Flooring is one of the most significant parts of interior design and renovation. Different types of flooring provide different advantages and can be used in different areas with multiple ways of applications and utilizations. We present to you the 6 best flooring types for your renovation and interior design project.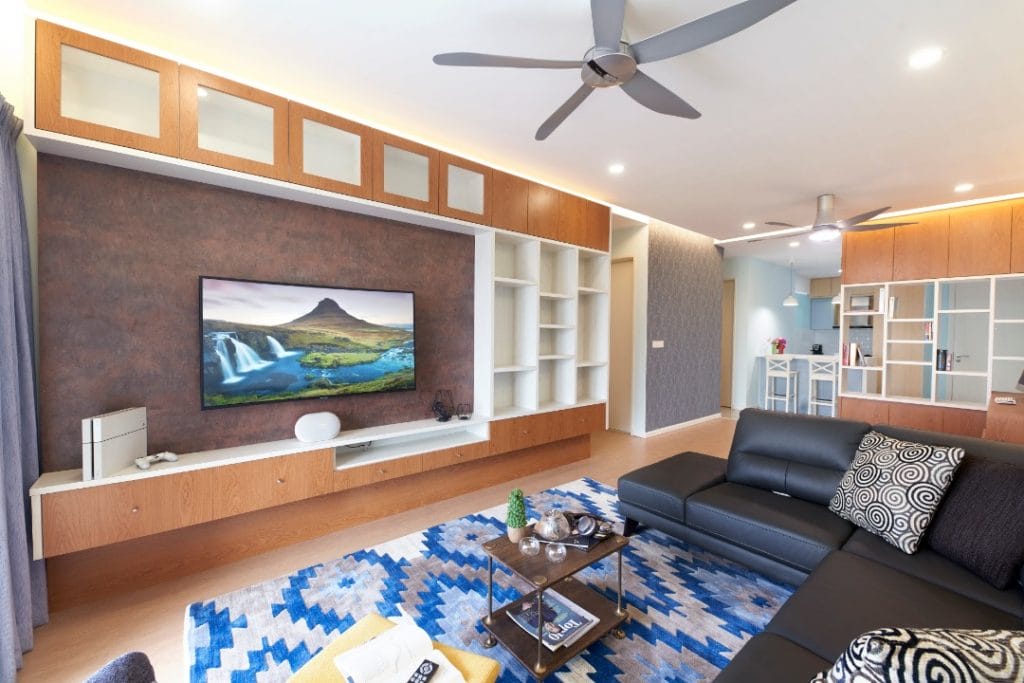 Laminate flooring is being utilized all over; in retail locations; cafes, badminton, gyms, and even in bowling alleys. First off, they are affordable, arrived in a huge range of designs, and are easy to install. Laminate flooring is several layers of synthetic materials that are pressed together into longboards. How about we take a gander at each layer, beginning from the base:
The balancing layer is the base surface of the laminate plank or board. This layer serves to resists moisture and provides stability during installation.
The core layer makes up the best part of the laminate flooring plank thickness and is made of compacted wood fibers mixed with a resin to make it tougher.
The pattern layer is what gives laminate flooring its design. It is a printed picture of the material you need it to resemble such as an image of wood, marble, stone; anything! Because today's printing technology innovation means that even experts can have a tough time telling whether a laminate floor is a genuine wood.
Finally, the wear layer is a hard, clear protective outside layer at the surface of the laminate plank to protect it from scratches, damage, and wear and tear. That is the layer that you step on, and put your furniture on.
However, there are some issue that cause this laminate floor have it disadvantages. The weaknesses are; this flooring has one single layer and that layer is going to degrade from time to time. Next, not as natural as the wood floor because some people do not want to install unreal wood products in their house. For your information, this laminate flooring is not durable that cannot be used for long time because of the material quality. Most common issue by using this laminate floor is it is created some unwanted sound that can be disturbing for most homeowners who want to enjoy their comfortable living in their homes. In addition, this laminate flooring can caused become bloated if there is water is spilled and not cleaned up immediately. And not to forget, this floor can be slippery, because it have smooth surface that can cause slippery especially when a water have on the floor.
SPC Flooring is one of the new types of flooring that uses stone powder, polyvinyl chloride & special stabilizer. SPC has greater stability from LVT, features extreme stability, high performance, 100% waterproof, abrasion resistance & phthalate-free. SPC stands for Stone Plastic Core. This is the second generation of WPC (Wood Plastic Core or sometimes called Waterproof Core), think WPC 2.0.  Built similar to WPC, it still has the vinyl layer on top of the core, but instead of a wood or plastic core in the center, it has a stone or plastic core in the center. SPC created is meant to be much stronger and sturdier than WPC.
SPC disadvantages are;
Not easy to remove once installed that you would need some time and patient if you are wanting to remove installed SPC flooring by yourself because removing adhesive type would definitely cause you an untidiness.
Exposed to sharp objects, hefty furnishings, pet's paws, sands or any sharp articles will leave scratches and scraped spot on SPC flooring surface. In additional and extra care is required with regards to contact with sharp and rough objects. Continuously make sure to cover SPC flooring with a layer of felt, tangle or carpets to keep your flooring surface smooth.
Sensitive with moisture, but, not to be befuddled because not all SPC flooring are sensitive to moisture that cause traps under SPC floor will encourage the growth of mouldy and causing odour. However, there are some kind of SPC flooring reasonable to be installed in high moisture territory like washroom. Simply check with BuildSpaces Touch on its usefulness before making any buy.
Yellowing and discoloration. The fact that SPC flooring can resist most of marks and stains, yet you should prevent strong chemical from coming into direct contact with SPC floor surface because yellowing on SPC flooring can caused by many factors such as chemical emit from rubber is a major culprit of this issue. You can overcome this problem by changing any rubber material to non-staining rubber material. Staining is normally caused by long term exposure to UV light as well as dirt that traps underneath wax layer but not all SPC flooring will have staining, everything relies upon the quality, with high quality SPC will be protected from staining.
Last but not least, Ecological Issue, the material used to produce SPC flooring isn't biodegradable and most SPC flooring is non-recyclable. However, there are as yet certain makers that produce recyclable SPC flooring. Additional time, synthetics delivered from worn SPC will turn into an ecological contamination. Not simply that, the assembling cycle of SPC flooring likewise require high utilization of flammable gas, oil and other non-inexhaustible assets.
Vinyl flooring is a new type of resilient flooring in the Malaysian market. Resilient flooring is combination floors such as PVC, plastic, rubber, linoleum, and the latest addition is vinyl. Vinyl tiles are factory-made from PVC with a flexible structure. The tiles comes in various shapes and sizes including square-shaped and plank-shaped tiles. They can either be used as a floating floor or joined into place. Some of the vinyl tiles come in sheet form. That is caused require professional installation to bind it into place. Vinyl tiles can copy varieties of looks, that some of them looks like woven materials, other is looks of wooden tiles or natural stone tiles. However, there are some issue that cause this vinyl floor is drawbacks;
Breakage
The sponge quality has caused issue to haunt us. Yes, it pads the fall of fragile things. But at the same time, the surface can be gouged if a sharp item with big force is applied. This proves to be a concern regarding to move furniture as well. Without furniture pads, the furniture can caused gouge or scratch the vinyl floor and caused leaving some marks. But furniture pads will help to solve this issue.
Not Recommended for Outdoors
The colours and tone can blur, fade and the floors damaged if vinyl floors come under direct sunlight or extreme temperatures respectively, so that the best way is to use it only for indoors.
Not Suitable for Bathroom.
Despite the vinyl has water-resistant property yet it does not have waterproofing property, it cannot be immersed in the water, along these lines it isn't prescribed to be introduced in washroom or toilet. Submerge in water for extensive stretch of time will make the vinyl to strip off.
Not a fire resistant
As vinyl flooring is made from PVC, it is easily get burn. This vinyl floor will easily perforation when exposed to fire. This makes this vinyl floor not suitable to be placed in a flammable place and much more suitable to be placed in a dry area such as rest room.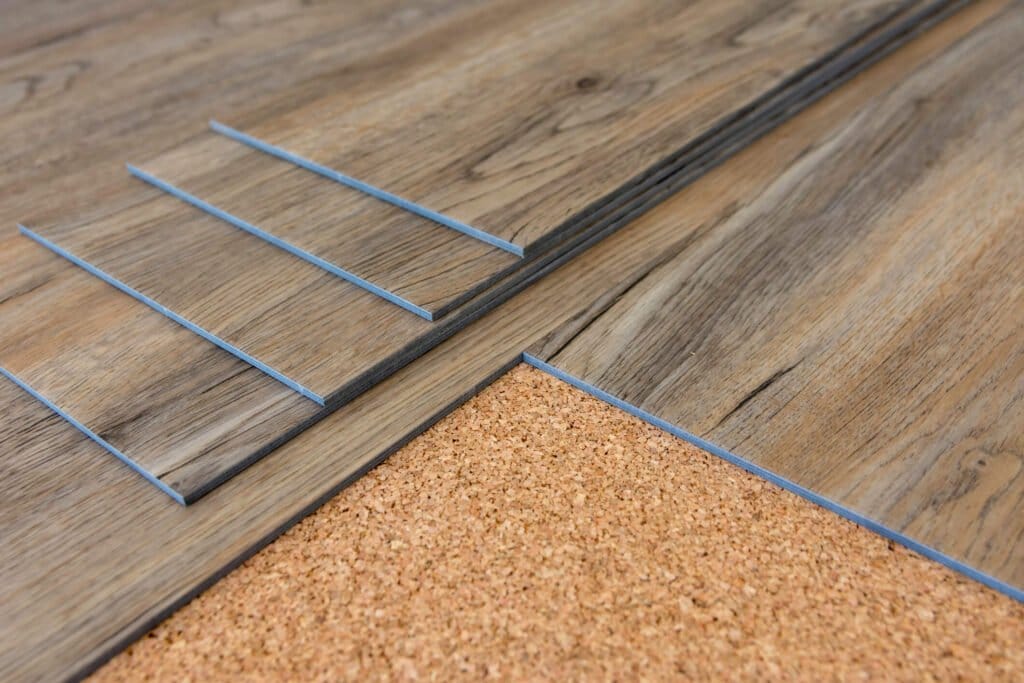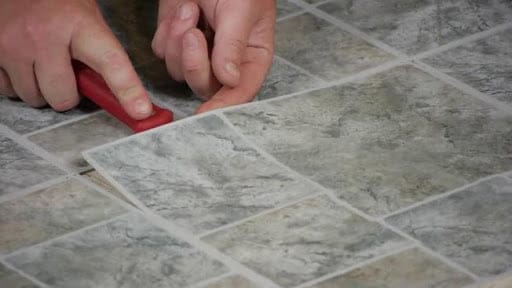 Tiles are a popular flooring choice in many Malaysian homes, offering a massive range of benefits. Tiles keep the home nice and cool in the summer months. Most tiles are; a cost-effective way to make a statement, environmentally friendly, hygienic, non-allergenic, hard-wearing, water-resistant, a great way to achieve a seamless look, available in a wide range of colours and style and low-maintenance. Tile flooring is created from a variety of materials such as clay, stone, metal, quartz, and terrazzo. Flooring has their own characteristics, each of it should match the characteristic which is in line with the size, style, use, and budget of the space.
The issue regarding tiles are cold and hard surface, a lot of weight, challenging installation and need to be sealed;
COLD, HARD SURFACE
The hard surface of tile makes it easy and simple to clean, but it is not always comfortable. It's not a preferable flooring choice for any area where you might need to stand for a long periods of time. Tile is a popular choice for kitchens, but you might want to consider another flooring material or find ways to offset the discomfort if you spend a lot of time cooking, for example put on rugs can be a great option to soften tile.
A LOT OF WEIGHT
The heaviest of your flooring depends on the particular material you decide to use, but overall, tile will be heavier than other types of flooring. This means it may not be the ideal flooring decision for upper stories but if you want to install tile flooring on an upper level, you are required to ask a professional like BuildSpaces Touch to check the structural integrity of your home to ensure that tile is a safe choice for your renovation and interior design project.
CHALLENGING INSTALLATION
Most of us know that tiles installation typically need mortar and grout as well as a variety of tools. Tile installation can theoretically be done by an unprofessional, but it is difficult and time-consuming process. Any mis-steps made during installation can caused long-term or delayed consequences therefore you need to hire professional teams that can make the job neatly and save you from some pain of doing the job yourself. Sincetile installation is so labour intensive it tends to be quite costly but here in BuildSpaces Touch, we can help to install under your budget for your renovation and interior design project.
NEEDS TO BE SEALED
Unglazed tiles should be sealed to protect against water damage. Grout lines are also inclined to moisture if they are not sealed properly. Without the secure and protection of sealant, water can leak, seep down into you ground flooring, weakening the installation and encouraging mouldy.
Marble has become progressively famous because of its immediate touch of complexity and refinement to any space. Marble is supposed to be the king of natural stone and is the most well know of natural stone. Marble is a profoundly strong stone that exists in almost every color because of the variability of part minerals. Marble tiles have numerous completions from cleaned to sharpen and brushed to tumble. Settling on marble an ideal decision for any room in your home.
As a natural stone, marble tiles offer high stylish value and enhance elegance and value to a home. They are expensive, however, and care for marble tiles can be tedious. Their absorbent nature makes them inclined to stains, and for the most part not worthy for exterior or outdoor finishing.
Although marble is the most expensive in flooring category, it also have disadvantage like;
Marble is porous and it's susceptible to water seeping in the floor and causing damage or discoloration. A penetrating sealer helps to keep water from soaking into the flooring but need to reapply the sealer regularly to maintain and protection from water.
As known as marble comes in on the high end of stone-flooring prices, you may also suggested to polish the marble tile floor routinely as it takes a lot of work to keep your marble floors protected and looking good all the time.
As almost similar criteria with tiles flooring, Marble flooring also consider as heavy weight and need professional to install the marble floor. That's because even a small mistake during the installation can ruin the entire project, which will costs you even more money and your home's structure is required to be strong enough to support the heavy weight marble floor.
Although marble is one of the most expensive and beautiful floors, but this marble floor is easily broken or cracked, especially in the corners. This need owner to extra careful to handle and avoid this from happening.
Solid hardwood flooring is, as its name proposed, it is made of 100% pure solid wood. This solid wood of flooring material comes in numerous sorts of wood, including balau, nyatoh, balau, merbau, kempas, burmese teak and chengal, and belian. There are likewise different species like ash, beech, white oak, Tasmanian oak, Russian pine, and walnut, among others. Some of these categories, such as merbau, Burmese teak, and belian, are notable for being termite-resistant, which makes them highly valued. Hardwood flooring has demonstrated to withstand the experiment of time with many old houses actually looking beautiful after even a hundred years or more. This material ages beautifully when it is wonderfully taken care of.
Only few big disadvantages for solid wood flooring, which is prone water damage and gets scratched easily.
Gets scratched easily. Solid wood also can be easily scratched damaged and dented but placing an area with a mat or rug will help to prevent such accidents and muffle the noise. Protective stickers or furniture socks are additional good accessories to prevent scratches on floors. Solid hardwood floors are the most pricy type of flooring material compared to designed wood, laminate, or vinyl. But, solid hardwood can be added resale value to a home.
Prone to water damage. You are required to clean wood flooring right away to prevent damage from moisture because wood is a natural material and susceptible to water damage. Failure to dry the floors immediately will outcome in discoloration, raised edges, and buckling. All these consequences of water damage tend to lead to an early replacement. Get in touch with a water damage renovation specialist if your wooden floors get soaked in flood water