Light wood floors and a white-tiled basement backsplash will help brighten the room while letting grey cabinets be the core of the design. The grey kitchen with shaker-style cabinets gives the traditional style a little more than dark wood. When you have a bright space with windows that let in lots of natural light, your kitchen will never feel dark but always attractive.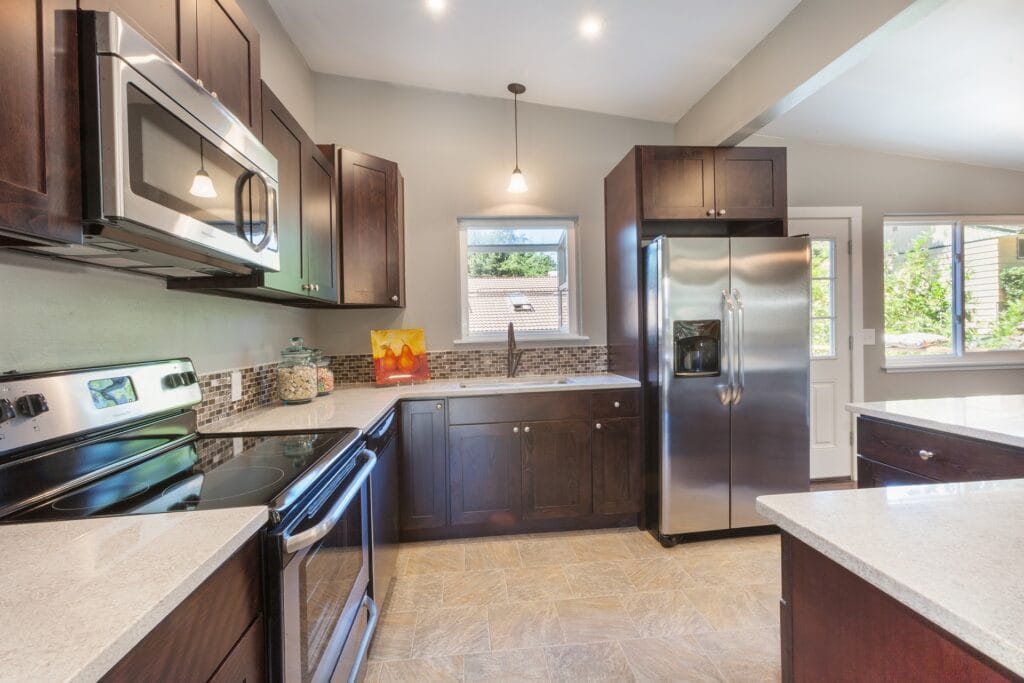 The deep-sea colour used can be eye-catching, making it the centre of the space. The colour of the island provides a beautiful contrast with the white shaker cabinets on the back wall and fastened with dark wood accents, such as pantry doors or wooden backsplash. Dark wood adds warmth to this traditional space and is easily imitated by simply changing your pantry door. You can find beautiful doors with lots of character at flea markets or vintage warehouses, which can save you money and is a more sustainable method of upgrading your kitchen.
MAXIMIZATION OF STORAGE SPACE
Never underestimate the power of extra storage space in your kitchen! As your family grows, so do your needs – additional space will soon be available. Before you order your cabinets, think about the configuration of your kitchen. To make the most of every inch of space, consider making a shallow cabinet in space if not to store smaller items such as spices, cans, or condiments.
If your kitchen space does not allow for a stand-alone Kitchen Island, the peninsula offers additional storage space and table seating for a cosy atmosphere. This way you can still enjoy your company while you play as the host and prepare the food. You can use every inch of the peninsula by installing smart corner cabinets like lazy susan or pull-out drawers.
A large island with plenty of seating space and beautiful wood details can make a functional focal point in your kitchen. Extra cabinet space will be very useful for storing cutlery or kitchen utensils. Traditional-style islands are often furnished with beautifully decorated columns that can withstand large overhangs and create extra legroom for your family or guests.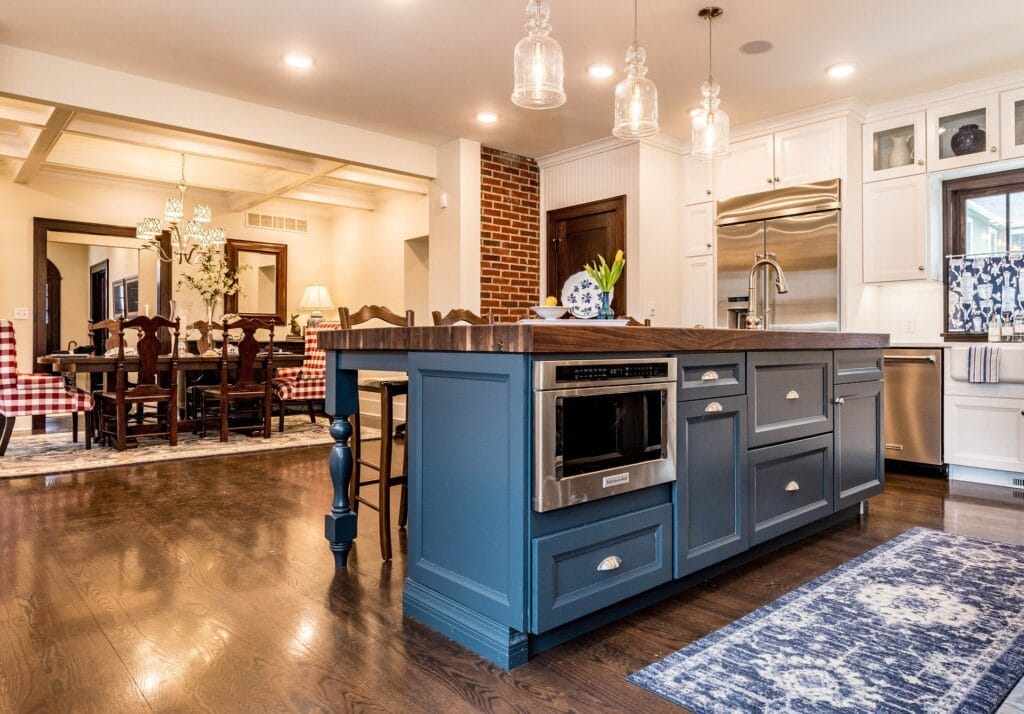 Who said the kitchen must be one colour? A mixture of pastel colours can add depth to space. Experiment with your colour palette – before you paint the entire cabinet, you can try the colour on a small area, step back, and see how much you like it. If you like it, paint the whole thing! And if not, you don't have to redo your kitchen because you realize early enough that different colours are better for your residence. You can break up space with open corner shelves. In this kitchen, they make unique eye-catchers and offer easy access to storage space.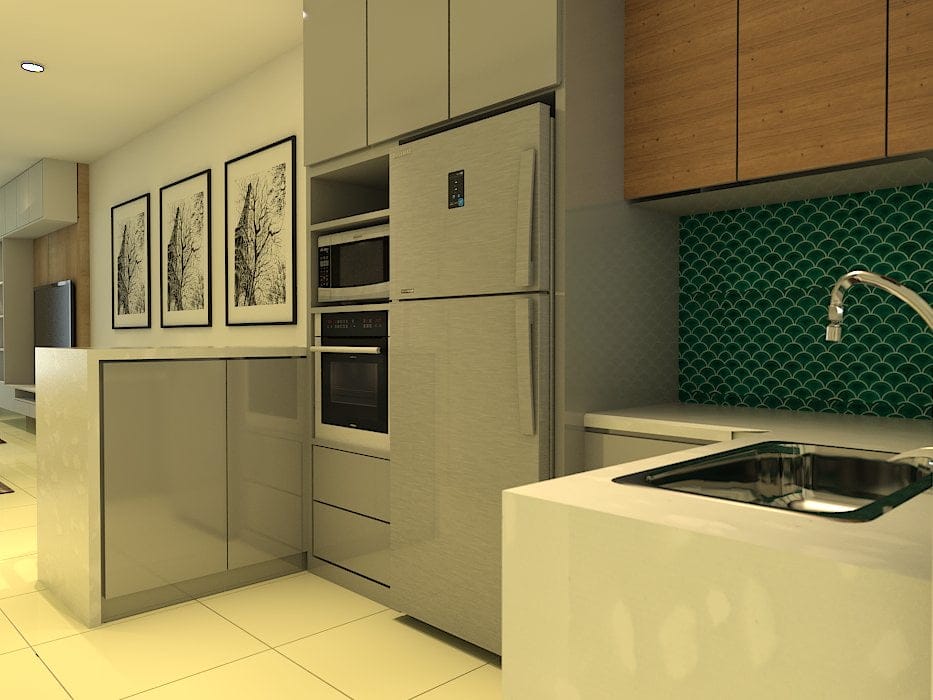 The kitchen is a combination of minimalist, eclectic and beautiful rustic elements. Traditional appliances combined with natural wood base cabinets and open glass shelves make the kitchen beautiful and cosy. Hanging a large chandelier in the centre of the room and placing a dark kitchen island underneath creates extra workspace and contrast. Choosing a removable island allows you to reconfigure the space as you need or your tastes in a change of style.
If your kitchen is prone to clutter, paint your cabinets in soothing colours. Sky blue, subtle blush hues, or muted sage greys make great paint colours for cottage kitchen cabinets. You can elevate this peaceful setting with a simple patterned white tile backsplash to the kitchen ceiling.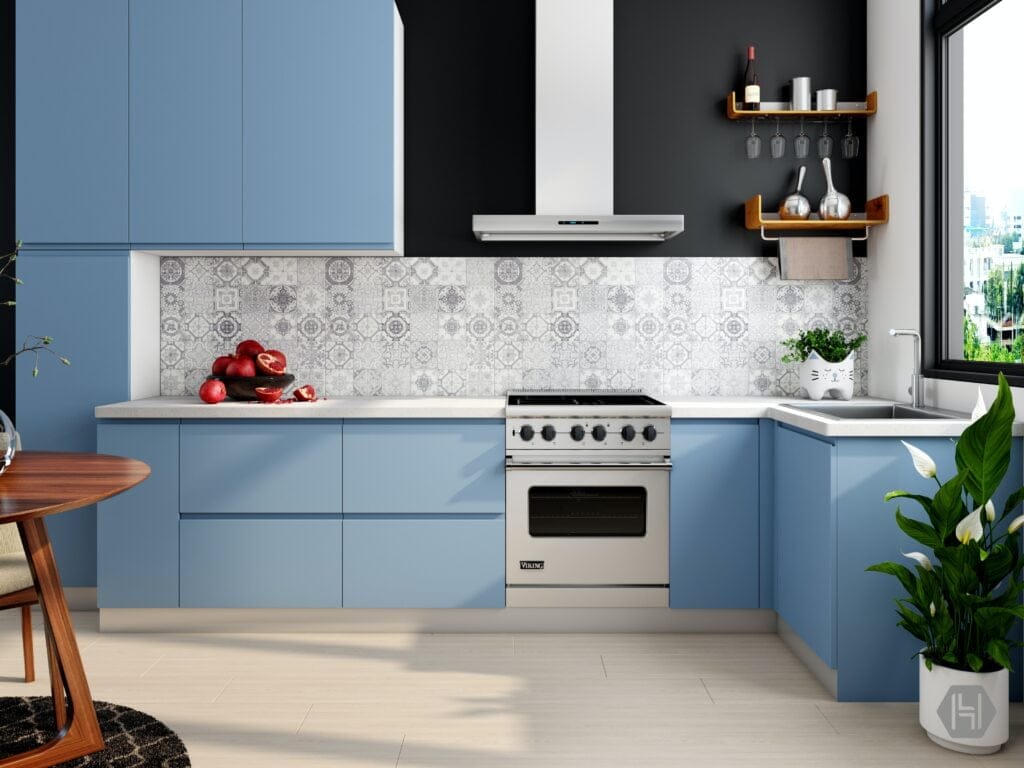 Are you tired of your old kitchen but not ready to make a bigger investment? Changing the top cabinet to an open shelf can make a big difference to your space. You can use reclaimed wooden shelves to spice up the kitchen with texture and decorate it with your favourite crockery or place a large number of potted ingredients on it to add functionality.
To distinguish dark wood floors, use brightly coloured cabinets and tables. You can add some soft touches throughout the design by placing a squeeze cloth stool around your island or hanging pastel coloured curtains in your kitchen. This accent will also prevent the room from feeling dimly lit.
Make sure your kitchen theme stays consistent by matching the colour of the cabinets with the colours found on the backsplash. If you're looking for a busier patterned tile, choose one that has the same colour family as your kitchen cabinets.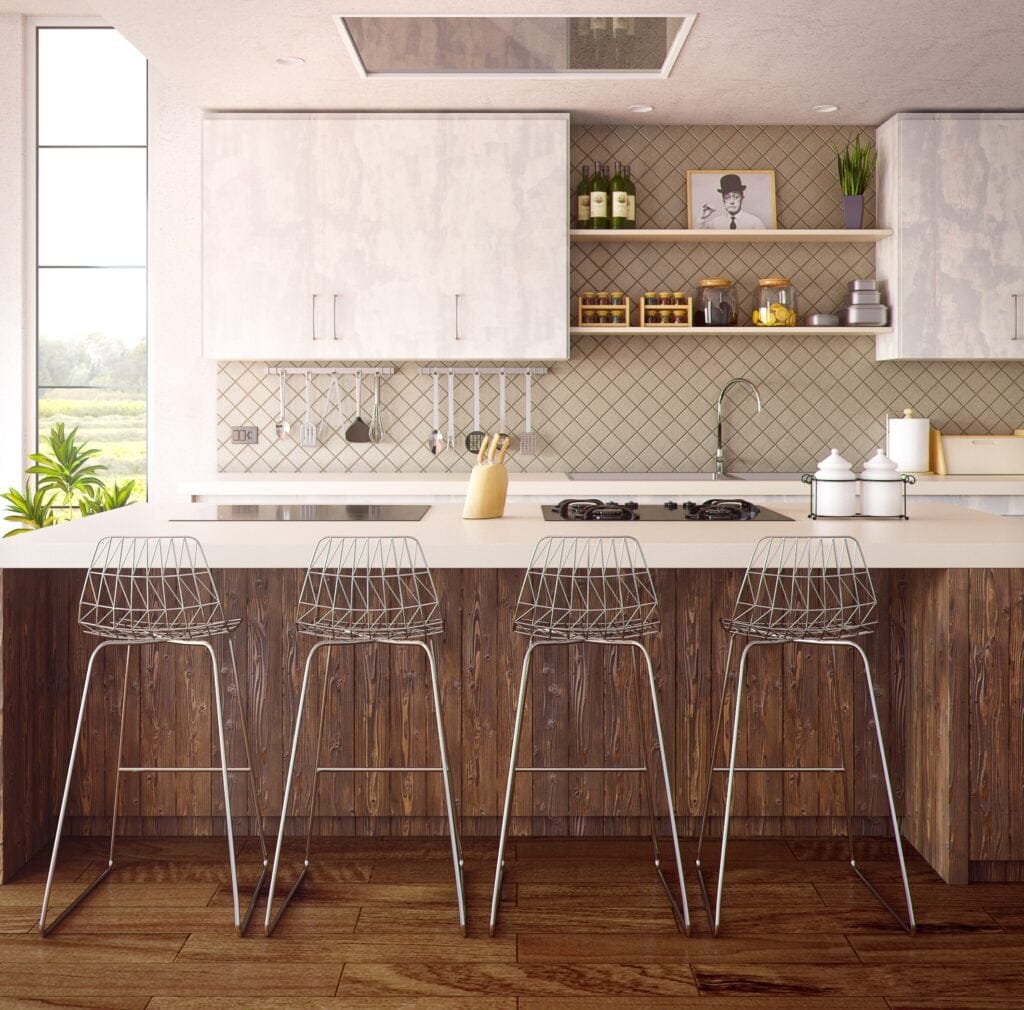 You can't go wrong with white kitchen cabinets. This is a great starting point for planning your other spaces! The white insert cabinets already have a rustic feel to them, adding an expanded kitchen island of reclaimed wood adds character to space and allows plenty of legroom for stools as you can see in this photo.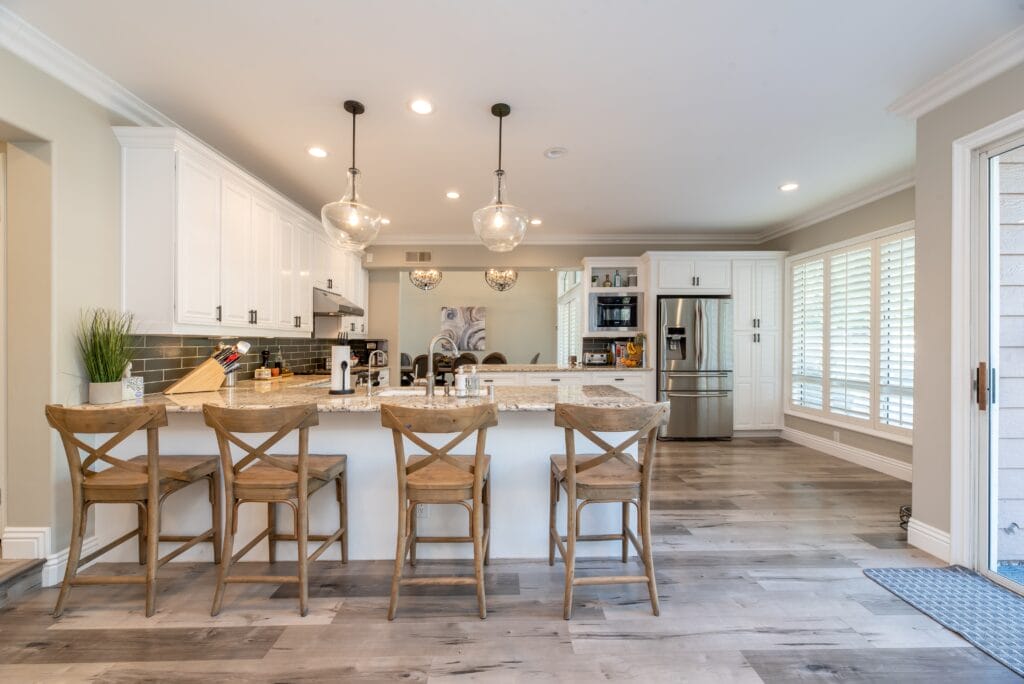 AESTHETIC KITCHEN APPLIANCES
Sometimes it seems as if 2020 is the year of dishwashing: So Many dishes need to be washed since this pandemic occurred. The selection of utensils that can do anything from bruising and biting to sautéing and boiling is the best. To brighten up your kitchen, the selection of aesthetic appliances that have become a popular trend can brighten up your favourite kitchen.
Vinyl sheets and tiles are excellent flooring options for kitchens because they can withstand the stiffness of a normal space. Durability will vary based on the quality of the material purchased, however, vinyl will usually be water-resistant, stain-resistant, and easy to care for.
Bigger, bolder colours, delicious textures and warm and homely tones will appear throughout our interior design scheme in the New Year, all reflected in the latest collection of bathroom tile designs and bathroom designs. Modern tile-making techniques have paved the way for creating a variety of textures, 3D effects and replicas of perfect natural products such as wood and marble, all trends that we will see further next year.
This bold colour trend probably started a few years ago. We know that the majority of people prefer white kitchen cabinets, followed by grey. But today you will see a lot of blue and green cabinets appear in kitchen designs at the moment. This family of colours is increasingly appreciated as bluish-green, mint green, sage green, olive and hunter green, apple green, pastel blue, Navy blue, turquoise, indigo blue.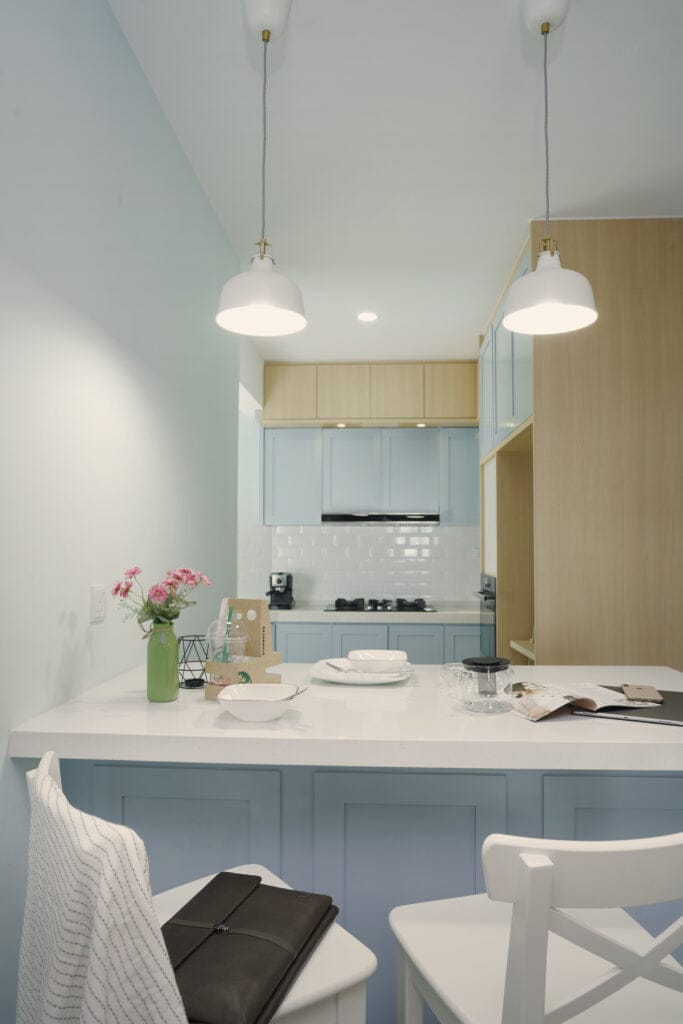 An incredible kitchen storage collection showcasing all kitchen storage designs for food and utensils. A pantry shows luxury and is very comfortable. The Walk-in pantry, is a special space from the kitchen used to store dry items, utensils and anything else commonly used in the kitchen. It feels like being in a supermarket. A Walk-in pantry is very helpful in facilitating kitchen work when the kitchen is neat and tidy, especially when having a walk-in pantry that looks like we are buying kitchen items at home.
Having a beautiful and tidy kitchen organization will bring a sense of fun to the owner. Neat, beautiful, and pleasing to the eye is everyone's choice. This beautifully arranged kitchen will make the kitchen series a lot of fun.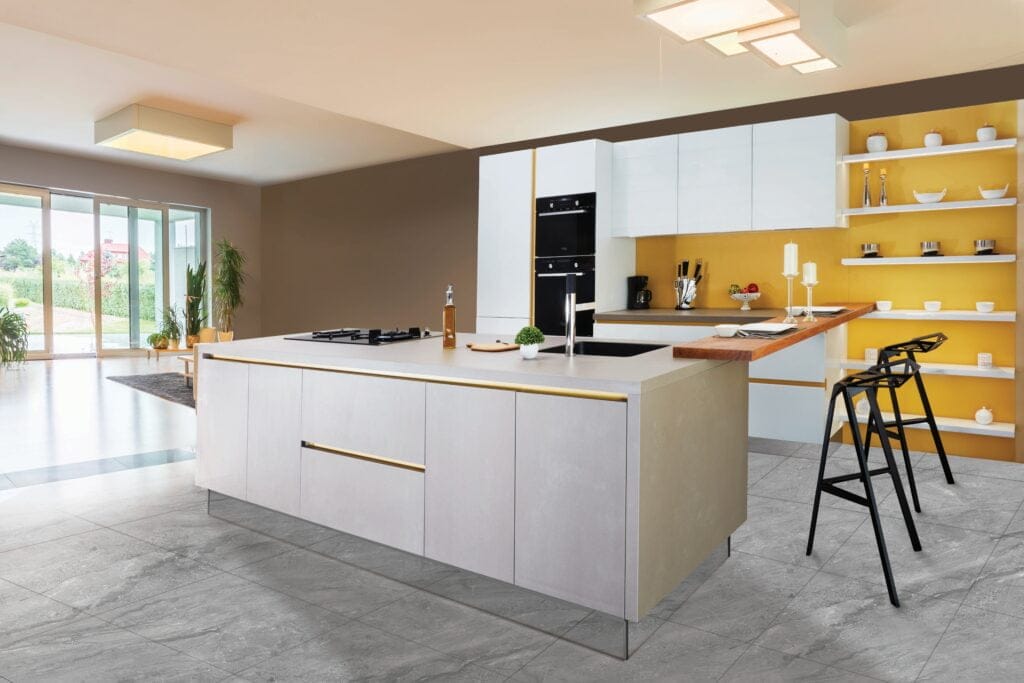 The kitchen is one of those spaces in the house that has so many items and at one time we always need more for our kitchen, cooking utensils, spices, kitchen utensils and even electronic kitchen items with the latest being the air fryer. This smart storage helps you organize your kitchen. With enclosed, enclosed, and smart storage it greatly delights the aesthetics of our kitchen.
When we say sleek style, we will see a simple and minimalist design with a neutral or simple colour scheme. The neat design is perfect for emphasizing their simplicity, thanks to this simple design your home looks more breathable, bigger and more spacious. These sleek and simple aesthetics will last until 2021 because their elegance will never be outdated, and your home will never be outdated.
Mixing anything is a risky business when you're not sure what you're doing. Fortunately, we are ready to help! Copper for example can be mixed well with chrome, nickel, or dark bronze. However, you cannot mix nickel and chrome in the same place. Adding different metals throughout your kitchen cabinet hardware, plumbing fixtures, or even open shelves can enhance your design and make your cabinets stand out more.
If your space allows, line the entire wall with dark and tall cabinets. To create a beautiful contrast, you can paint the walls behind the natural wood white – this will make the cabinets stand out and make the kitchen look brighter.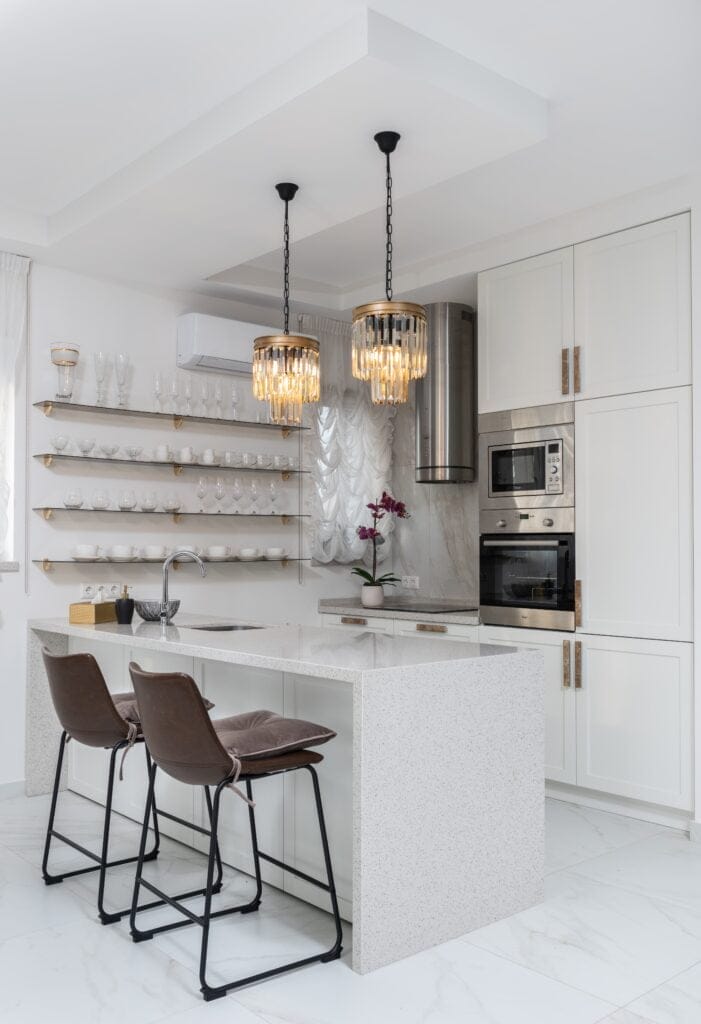 To enhance your industrial kitchen, install matte black hardware to your cabinets. Whether the cabinets are white, navy blue or grey, this timeless yet edgy feature is a beautiful accent you want to incorporate into your design.
By lining one wall with cabinets, enough storage space is created in this narrow kitchen so that the whole room can be open and untidy. The tall white cabinets make the room look bigger than before and run to the ceiling – making it a great ploy to maximize storage in a small space.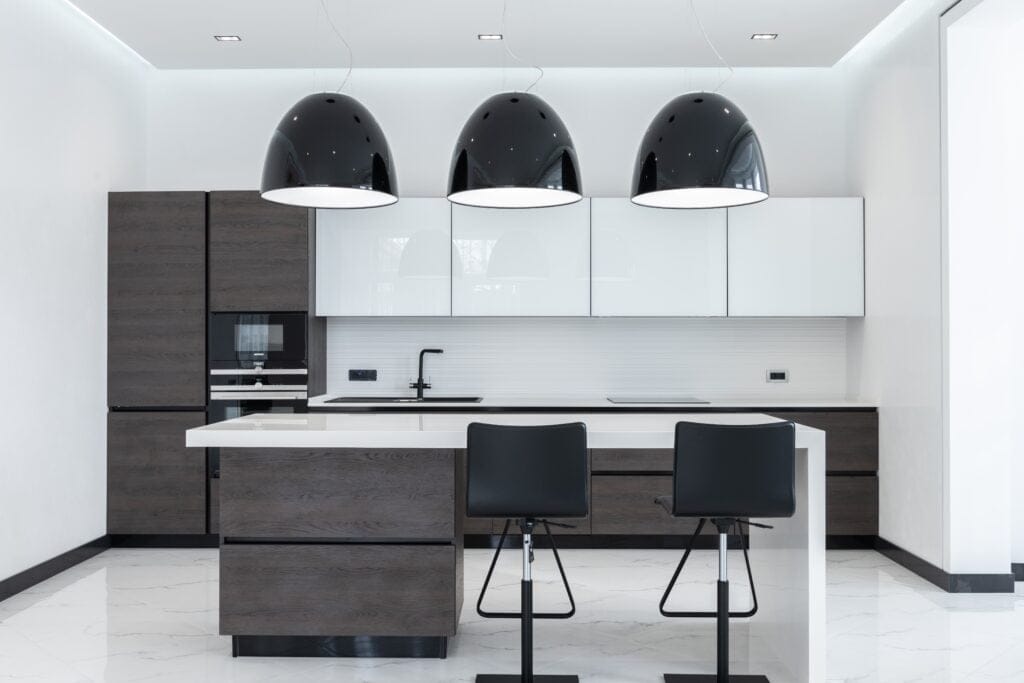 In a spacious space with high ceilings, your design options seem endless. If you want to create a modern kitchen with nice ventilation and airy, a simple white shaker cabinet is the best way. You can add sophisticated accents with brass or gold utensils and plumbing fittings. The tall, dark -coloured island can be the focal point of your kitchen where guests will have a fun gathering.
Stainless steel equipment is not always required. Try to find equipment that matches the colour of your cabinet to create a cohesive and eye-catching vibe. You can also match the colours of your appliance. Brass, rose gold, or matte black appliances will give your modern kitchen a modern feel.
Black cabinets are a wonderful feature in a modern kitchen, but can quickly make a room feel darker and smaller than it is. Install a glass front cabinet door and paint the inside of the cabinet white to let more light into the room and incorporate interesting features that open up space.
The future is now! To make a sleek yet bold statement kitchen, you need to make a bold colour decision. Modern cabinets without handles compliment the unique patterned backsplash. The opaque glass dividers allow the kitchen to look larger than it is.
So you want a truly unique space that isn't like a white house kitchen all over your Instagram feed? Stylish black and a great colour choice for your kitchen cabinets. Whether you want to lean on a more industrial vibe with a brick backsplash or add an eclectic touch with an open glass shelving unit and colourful rugs, the colour black suits just about anything! Make sure your space gets plenty of natural light or you include large, bright pendant lights so that your kitchen is not too dark.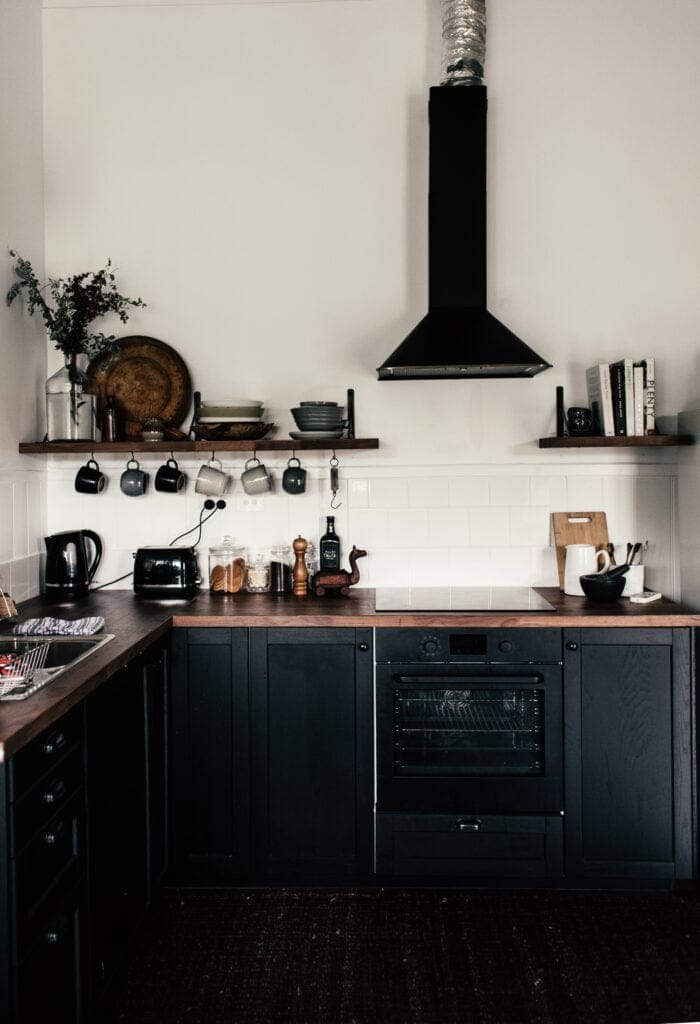 Strategically combines a mix of cabinets with glass doors and open shelves to create a contemporary kitchen niche. The combination of glass-front cabinets and open shelves makes this small kitchen space feel much larger than it is. A two-colour appearance with white cabinets on top of grey base cabinets also makes the ceiling look bigger.