Who does not want a beautiful kitchen is perfect? Surely homeowners dream of a beautiful and perfect kitchen. And surely everyone has different dreams and desires in terms of taste and use. But, there are a few things to consider before making a kitchen cabinet.
Here we list the top 10 materials commonly used in the manufacture of kitchen cabinets along with the advantages and disadvantages of these materials.
Melamine begins with a compressed particle wood core. Then covered with resin and paper finish that can be produced to include various styles and colours (high-pressure laminate / HPL). The benefits of using melamine for kitchen cabinets are easy to clean, large variety, and uniform finish. While the disadvantages of melamine are low cost, heavy, can crack, looks cheap, easily exposed to water-borne damage, and visible side-lines.
Laminate is a synthetic coating that is attached to cabinet boxes and/or doors. Usually, paper and resin are combined with heat (high-pressure laminate / HPL), it can be produced in various colours, patterns, and textures, including wood grains. Laminate doors are more durable than melamine doors, easy to clean, wide variety, and uniform finish and look elegant. But, laminate is more expensive than melamine and it can chip. Laminate also can easily be exposed to water-borne damage but better than melamine and have visible side-lines.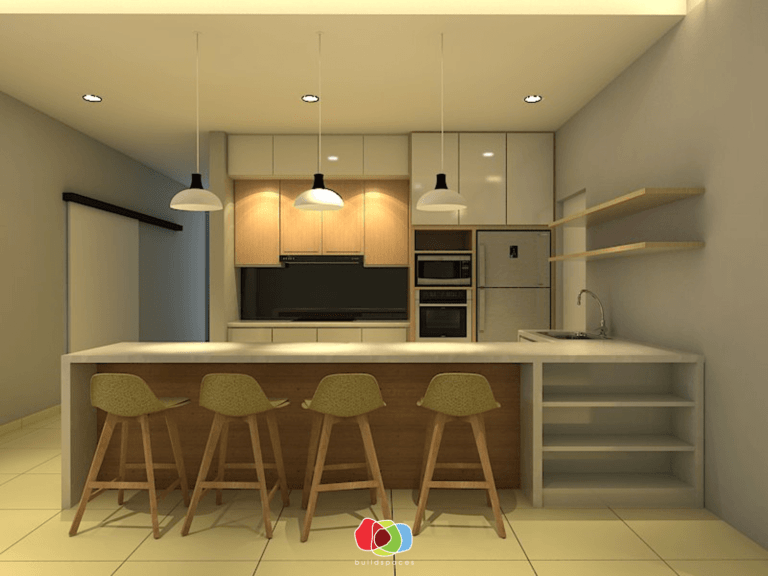 Polyurethane spray is a plastic-based resin that provides a flawless and shiny finish when used to paint and produce higher quality finishes than regular sprays. The best about the PU Spray kitchen cabinet is has no visible edges, long-lasting, water-resistant, and chemical, modern and classic looks can be done, elegant and mesmerizing appearance, and also have various colours. For PU spray, disadvantages are expensive, more time required to complete the project, and can only be done on MDF surface or solid wood surface.
Membrane press (or vinyl wrap) is a thin sheet of vinyl that is vacuumed and sealed on particle board or MDF sheets. The best about membrane press is; budget options, an invisible sidebar, and able to wrap in various directions. But, membrane press does not last long, cannot be repaired, cannot stand the heat, and can swell or flake off.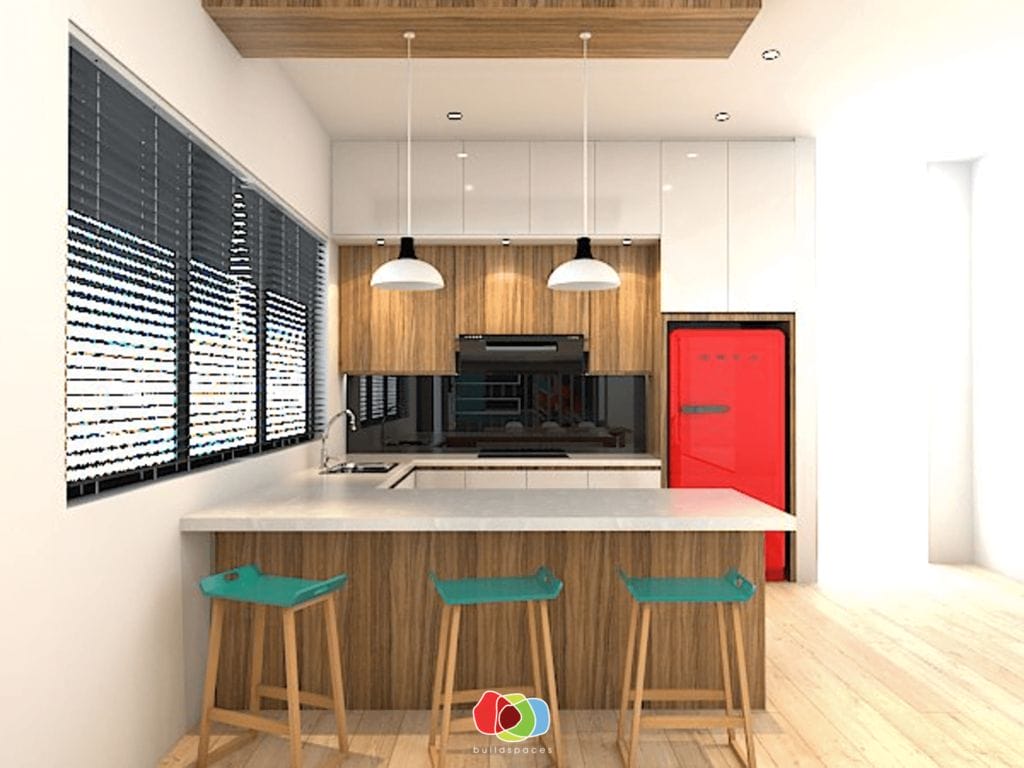 Solid wood in a modern style. Comes with a wooden stick or bowl with PU spray finish or lacquer finish. Solid wood has a versatile display with wide profile style and colour, very durable, fine finish with PU or lacquer spray, no invisible edges, and cabinets can be repainted or repainted to give a new look. The weaknesses for solid wood are expensive, not suitable for contemporary modern concepts, they grow and contract with changes in humidity and can warp over time also more difficult to clean, usually require special products designed for wood cleaning.
PVC, or polyvinyl chloride, is a widely produced polymer and widely used in construction, PVC is easy to install, cheap, resistant to moisture, not easily attacked by termites, multicolour, and no need for expensive finishing. While for the disadvantages of this PVC kitchen cabinet are can sag if used for a long time, an insect can breeding site in the cavity, can change shape if tried to change the original shape, need to use appliances that are compatible with to reduce damage/defects and easy to scratch.
Plynyatoh is expensive material for kitchen cabinet, long work to do and complete. Plynyatoh known as a high cost material because of there are 3 layers, namely the first layer of plywood, normal size 3.6mm size, middle layer of wood size 1/2 "x 1 6/8" and the last layer of white plywood size 3mm. Available in various patterns and colour options. Modern finishing habits use Fomika, mica and other materials. This plynyatoh is dry fast, very light, easy to clean and can last 5 – 10 years.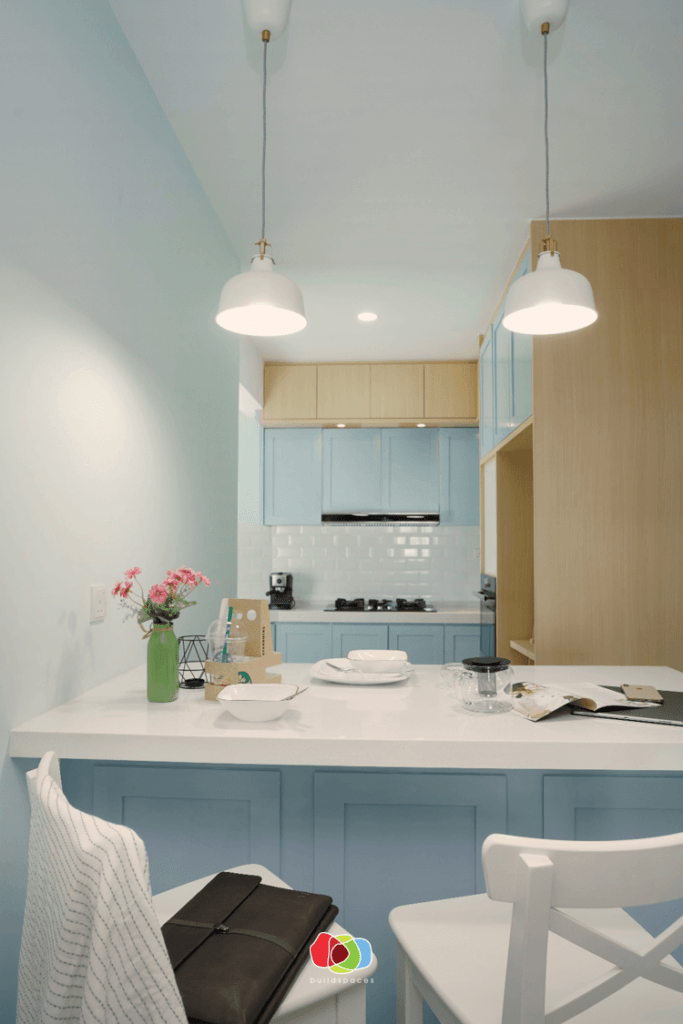 Chipboard is the most worthwhile price compared to other types. Has anti-termite properties, the most common problem with kitchen cabinets. Waterproof (does not expand with water), even more so in the sink. With high quality wood with a mixture of green glue on the wood and edging finish using pvc abs (tightly closed to prevent water and pests from entering). Chipboard consists of 2 designs, Fomaica and Melamine wood pattern.
UV Gloss is a beautiful, finished wooden plywood panel featuring a clear and durable topcoat. The wood surface is coated using uv paint to protect the surface of the material and once painted with uv paint, it will be called as uv board. The advantage of uv gloss is, it has a wide range of colour options and uv gloss is resistant to moisture and even water. UV gloss is a non-toxic and unchanged material and very suitable for use as jewellery or interior furniture. However, the surface strength of uv gloss is not comparable to acrylic which is easier to scratch.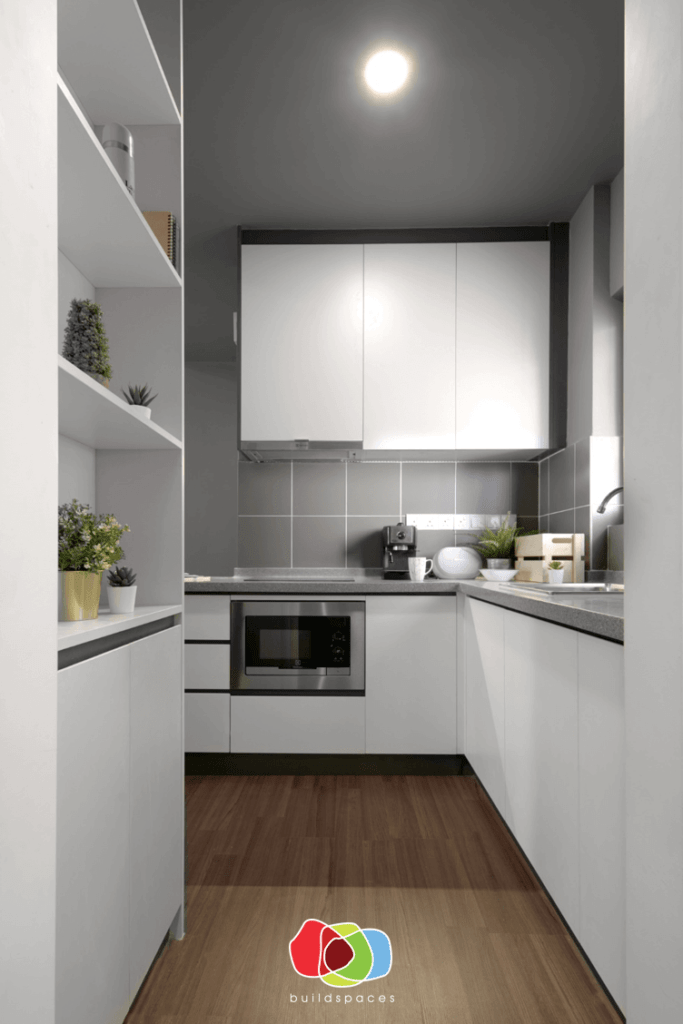 Blockboard consists of an arrangement of wooden blocks of type blocks (Resak), arranged from side to side between two layers of plywood, and then glued together under high temperature pressure. An 18mm thickness is used for the kitchen cabinet door so that it is durable and strong.
Doors are lighter than other types of cabinet doors. So the door higers are not easily damaged and the door level will be parallel for a long time. Blockboard boards are not easily broken or cracked. Blockboard is moisture resistant and water resistant and is suitable for use on wet kitchen cabinet doors as well as dry kitchens. Suitable for all types of kitchen concepts and themes such as Modern, Tropical Modern, Contemporary Modern, Modern Luxury. Laminated Formica surface finish can be replaced if damaged. Has very minimal maintenance costs.
However, if the door is too high, it can warp and bend. The same problem applies to all types of patterned kitchen cabinet doors. Namely Texture inconsistency when it is stacked horizontally on each door. Need to have high skills to cut Formica pieces.