Building your own home is a dream project for most people. But it is not a thing that you can be taken lightly. Many financial, legal, and related questions need to be answered before you get started! Most importantly, how much does it cost to build a house? Over the past decade, the cost of construction in Malaysia has shown an increase in prices in this industry, it clearly describes the cost increase over the last ten years.
In the focus area, Kuala Lumpur, the cost / square meter for both semi-detached houses and luxury apartments increased from less than RM3,000 / square meter to more than RM3,500 / square meter (from 2008 to 2018). The cost / square meter for a high-rise apartment has increased from RM1,500 to RM2,000. So, what costs involved, and how should you make an expense or budget?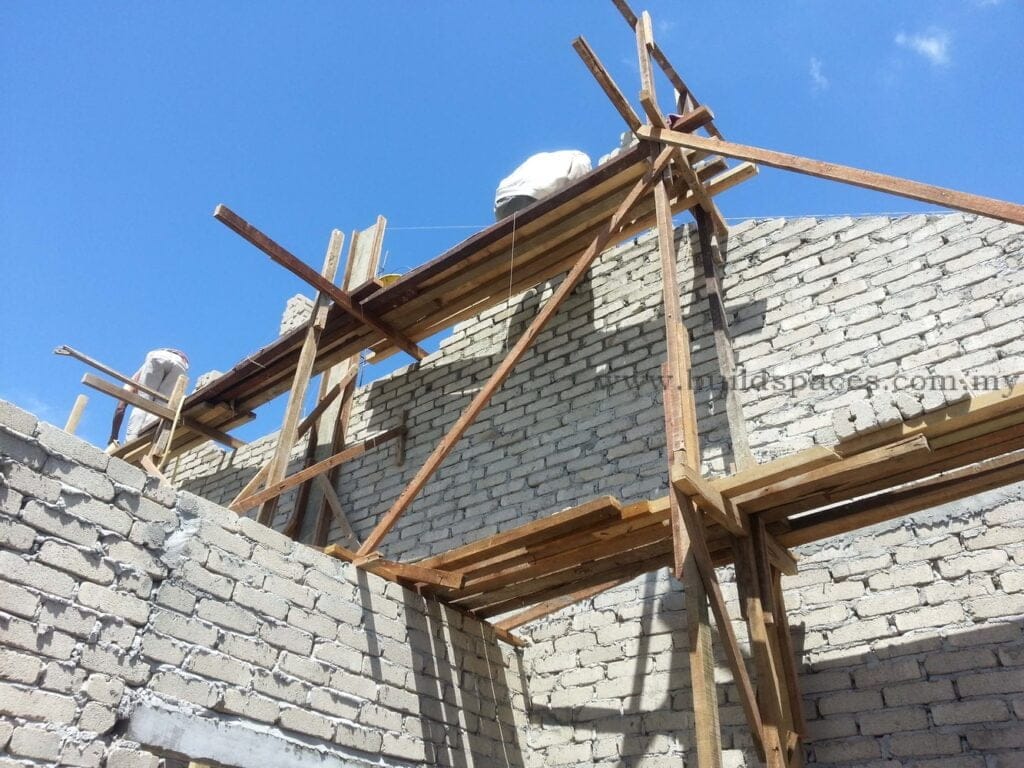 CONSTRUCTION COSTS AND ESTIMATED EXPENSES
The main rule in the construction of the house – investigate the cost in detail before you start! Remember, unless you are lucky enough to own a piece of land, or you are in a situation of having to demolish an old house to build a dream house if you want to buy land you have to take into account certain costs. It is much more difficult (and expensive) to buy land in Kuala Lumpur city center than in rural areas such as Perak. Construction costs also vary by state, taking into account several factors such as local contractors, materials, and even the area. For example: On average. The cost of excavating the basement in Kuala Lumpur is lower than in Johor Bahru, while in Johor Bahru the cost for steel structure works is lower than in KL. There are many things to consider when you provide expenses, besides you can also refer to those who are more professional. This is a better start!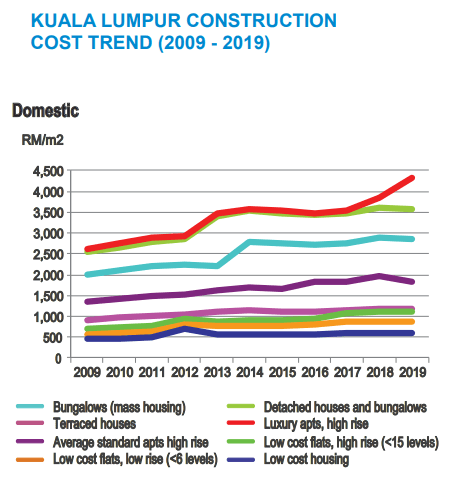 Referring to the table below, those costs are at 4th Quarter 2019 levels, inclusive of preliminaries (10%) but exclusive of contingencies – Arcadis.
However, the calculation clearly does not take into account other matters, such as the purchase of land.



As we explained above, if you do not own land, you need to find a piece of land to buy first! The land will have a higher price in popular locations. So, if you are looking for it in the downtown area of ​​Kuala Lumpur as next to the MRT station, it is definitely difficult. Of course, you can reuse a piece of land you already own, even if you do not rely too much on the house that is already there. At the time of this writing, the price of a piece of land in a reasonable rural location to a major development site in Kuala Lumpur and Penang can reach up to hundreds of millions of Ringgit.
Unless you are a lucky person, most likely you will need to take out a housing loan to build your dream home. There are two types of loans that can be considered when looking for home construction financing in Malaysia:
Land financing loan – Covers loans for the purchase of a piece of land only. There are several products on the market, which generally cover certain types of land such as residential or commercial. Just like home loan financing, total financing tends to cover around 85% of the cost of residential land.
Land and construction financing loans – This type of loan also offers financing for construction, in addition to the land loan itself. With the right construction expense plan, these construction elements should cover everything from contractor costs to permit payments.
As with any major financial agreement, you will need to provide detailed evidence of expense costs to apply for this loan
It includes land title documents, building plans, and contractor quotation costs, related documents from the local Land and Mines Office, and many more.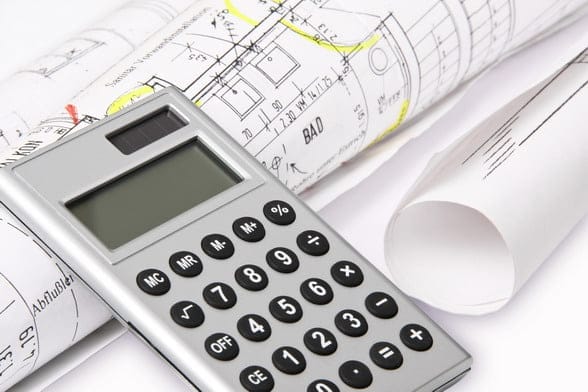 If you want to do 'something' properly, appoint or hire a QUALIFIED professional workforce to assist you throughout the construction process. And since this 'something' has the potential to be a place for you to take refuge, you definitely want it to be safe, secure, and meet the highest standards.
There is five key professional manpower to think about when you ask how to build a home:
1) Architect
Design your dreams. An architect will create an example of your new home design based on the description and design features of the house you want. You can find out more, and check the list of registered architects at the Board of Architects Malaysia.
2) Engineer
Structural and mechanical engineers need to design the main pillars of your home. While architects may produce charming designs, they are individuals who design mechanical, electrical, and home plumbing systems to produce well-functioning homes.
3) Lawyer
Often there will be some important documents that need professional help to build a house. Whether it is a land purchase agreement or a construction permit, the presence of a lawyer is very important in your consulting team.
4) Surveyor
Surveyors are there to make sure the house is built is on suitable land. That means, everything from geographic surveys to assessing ground foundations to building surveyors who monitor the quality of work during the construction process.
5) Builder
Someone who will make your dream home come true! It would be a mistake to assume that you can play a big role in home construction.
It Is a full-time job! You need a contract builder to complete the house on time.
Your architect may be able to recommend names that have worked with them before, or you can ask friends and family who may have good suggestions. An increasingly accessible option that may be worth trying is a special prefabricated house, using the Industrialized Building System (IBS) construction method. Although not widespread in Malaysia (still available), there are companies in the market that can create prefabricated homes that combine almost all the roles and needs of the professional workforce listed above under one roof.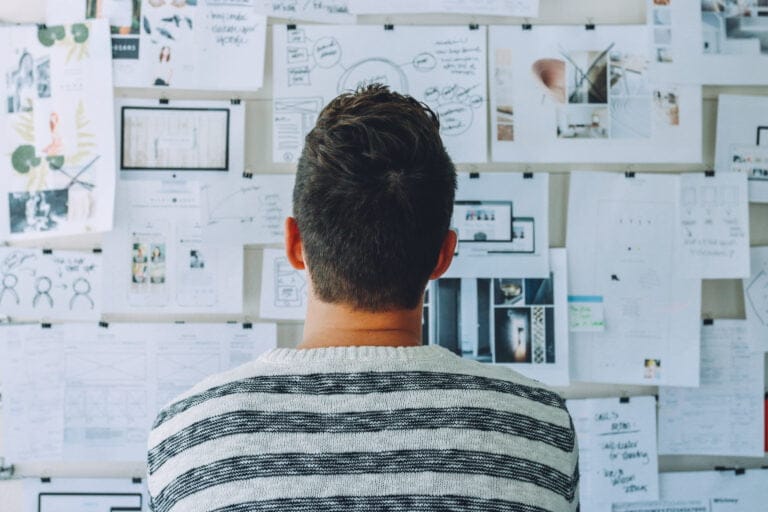 You cannot design a house with a short walk! Instead, you need to work closely with the architect to produce a building plan that provides detailed information for the construction of your home. A qualified architect not only helps produce your practical dream-vision but should also know all the relevant building and zoning rules. He must be an individual who can make sure you, in the end, do not do something that violates local rules. This building plan should not only meet the vision you want, but your consulting team will deliver all practical considerations such as good drainage, lighting, and security systems.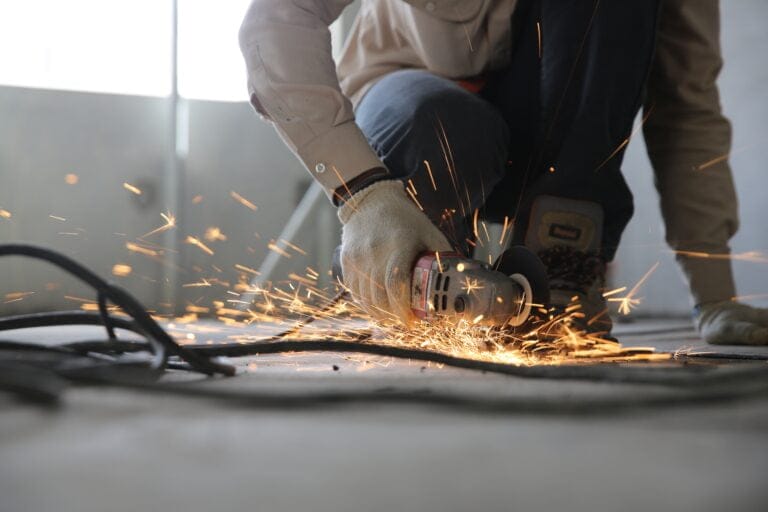 With enchanting exterior design when the house is almost ready to be built, now you have to start planning the interior design of your home! We're sure you have a good idea of ​​how the results will be later, but it becomes a key determinant where construction costs will start to increase. Here are some great living room design ideas to inspire! Even so, one thing you need to remember, interior design is not for life. If your budget is getting limited, you can get a more affordable and practical interior design idea at this point, with the dream that one day you will upgrade your kitchen or bathroom with the dream design. Of course, you may aspire to have charming Italian wallpaper and wooden floors, but it is by no means the same when you have to sacrifice two bedrooms just because they are tied to expenses. If you have the budget and desire, you can hire a professional interior designer to realize the final part of your dream home! These are the usual price for flooring, wall, panelling and other interior work items that you may refer;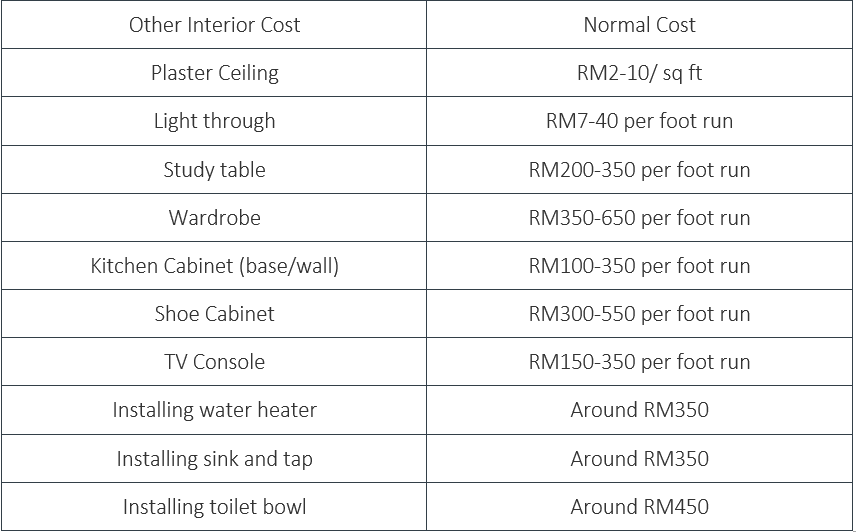 One of the biggest risks to your home construction expenses is construction over time. Each day that passes the estimated time, is a day where you have to pay MORE to the consulting team to complete your home. It also has other impacts as you have to continue to pay for accommodation costs beyond the estimated time limit. This is a big problem that will lead to increased costs. So, work closely with your architects, surveyors, and architects to create a timeless and achievable timeline for the construction of your home. Beware of overly confident attitudes that you can solve many issues on your own. A common obstacle faced by many new architects is that they fail to appreciate how much time and energy is required in the construction of a house.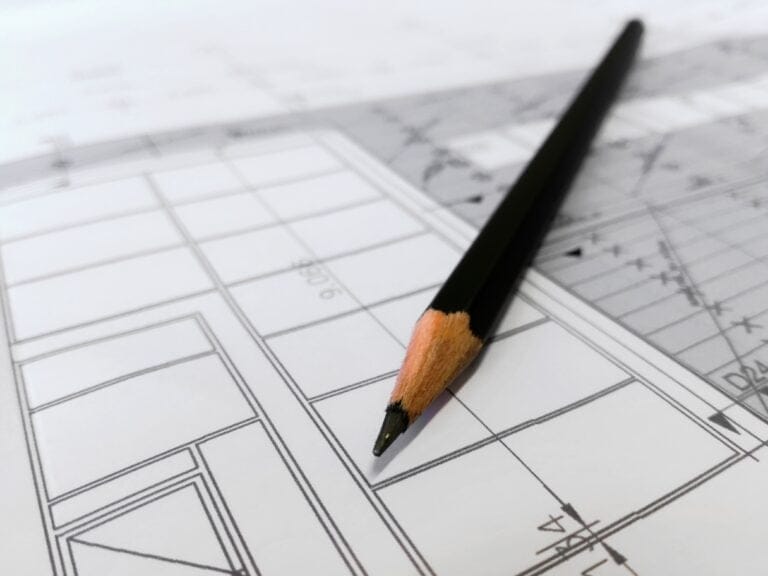 Administrative work of course involves financial costs, this is a statement of whether you want to buy a new home or build your own house. This means that the cost of preparing paperwork and obtaining a permit must be taken into account in planning your expenses. Your surveyors and architects are already advising on the rules and regulations that need to be followed, but now is the time for your attorney to get their pay. With proper planning, and financing loans already considered, now is the time to get the necessary permits.
Each requirement and permit may vary by location, but there are four main steps you need to take:

Good communication with the contractor is very important to successfully build a house, and that includes a good understanding of the construction site. You need to know if there are any additional costs expected from the construction site, or whether it is included in the agreement between you and the builder. You certainly do not want to know that you suddenly have to pay rent for a mobile toilet for 12 months! More important than the question of toilets (at least, in the short term…), is any cost to provide a construction site, especially if an existing building needs to be relocated. It all has to do with the preparation of a long, scary, exciting, amazing, and possibly invasive, development plan!
You should have a good guide or reference on the construction material you want to use for the construction of your home. Keep in mind that material costs can fluctuate, especially when in the early stages of obtaining a permit, and the initial planning takes longer than expected. It should also be noted that if you import materials from abroad, the frequently fluctuating currency rate also affects the estimated cost. The wood you always wanted will not be at the same price as it is now as it will only be available in the next six months. It is best to talk to contractors about when and where they will buy building materials, especially if you are looking for high-quality materials for specific parts of your project. This means that you already know about expenses from the beginning and know it is likely to change.