Fresh Interior Design for Your Premises
Bathroom renovations are a huge investment in terms of time and money, so it's important to plan everything before starting any renovations. You must set an estimate and find the right designer before updating. If you need inspiration, here we will show you the latest 2021 bathroom interior design trends, to help you clearly define what you want and need
COMFORTABLE - 10 BATHROOM INTERIOR DESIGN
The bathroom no longer functions entirely as a place to clean oneself, but also a place to escape from the daily routine, and this will be seen in the homemade furniture and surrounding lighting. A beautiful decorated table, with utensils for makeup in the bathroom, will make you feel very comfortable. Think appliances, armchairs, poufs, bath mats and chandeliers.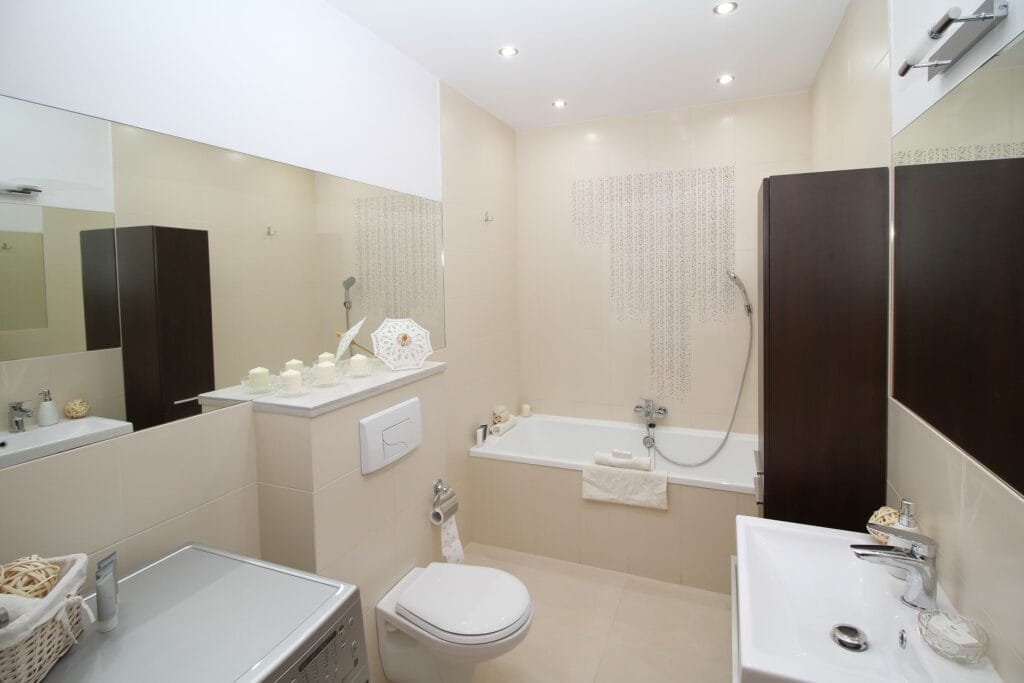 MARBLE OR STONE - 10 BATHROOM INTERIOR DESIGN
The year of 2021 will be marked by the return of marble. The colour will be white, grey, and red. The fluid lines and seamless layout of the space will be practical and simple, but with a touch of organic and elegant comfort.
Marble and wood are not the only natural materials that will be the trend next year. Natural stone will continue to be used, not only on floors and walls, but also on tables and sinks. It is played with the majesty of natural materials that are different from each other, offering visual textures and touches in a space that has become a shelter.
Here is an example of how stone aristocracy combined with other natural materials can create a truly elegant and contemporary environment. If you are going to put a wooden table, make sure it is insulated from water, at the moment there are many paintings that make it perfect for years.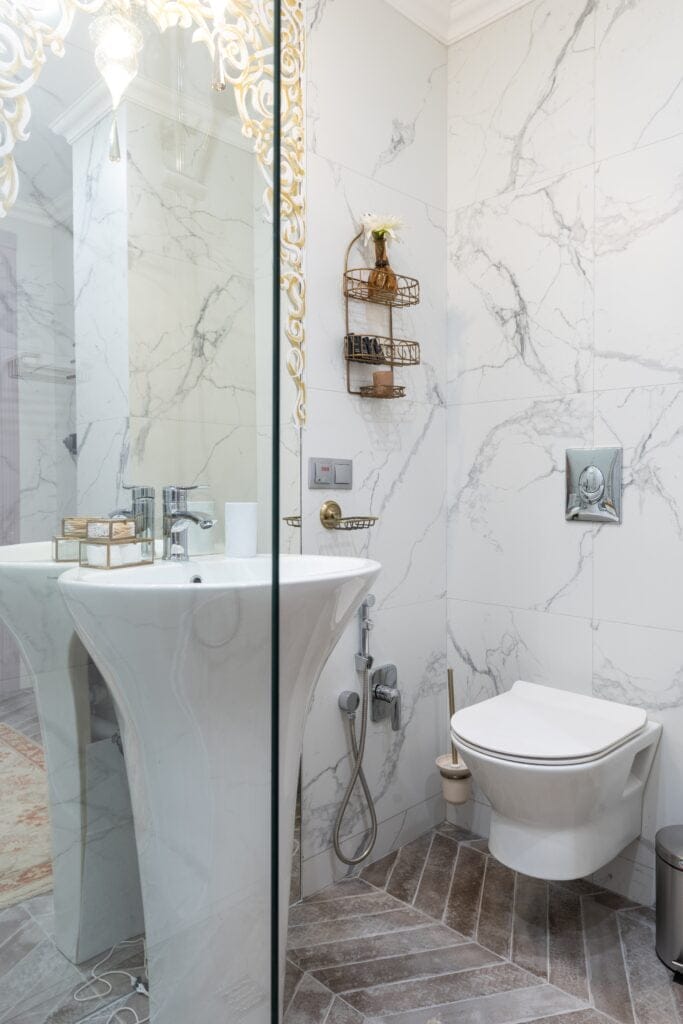 GOLD METAL - 10 BATHROOM INTERIOR DESIGN
Metal has become an important internal trend in recent years, and it looks like it will never be used again. Gold metal offers glamor and contrast with natural materials.
They reflect light and injection styles, either with an industrial touch or a touch of glamor. Metals with a matt or satin finish will be very popular this year.
Metal accessories in copper and gold tones are another trend. An elegant return to the aesthetics of the 70s in a combination of colour and shade.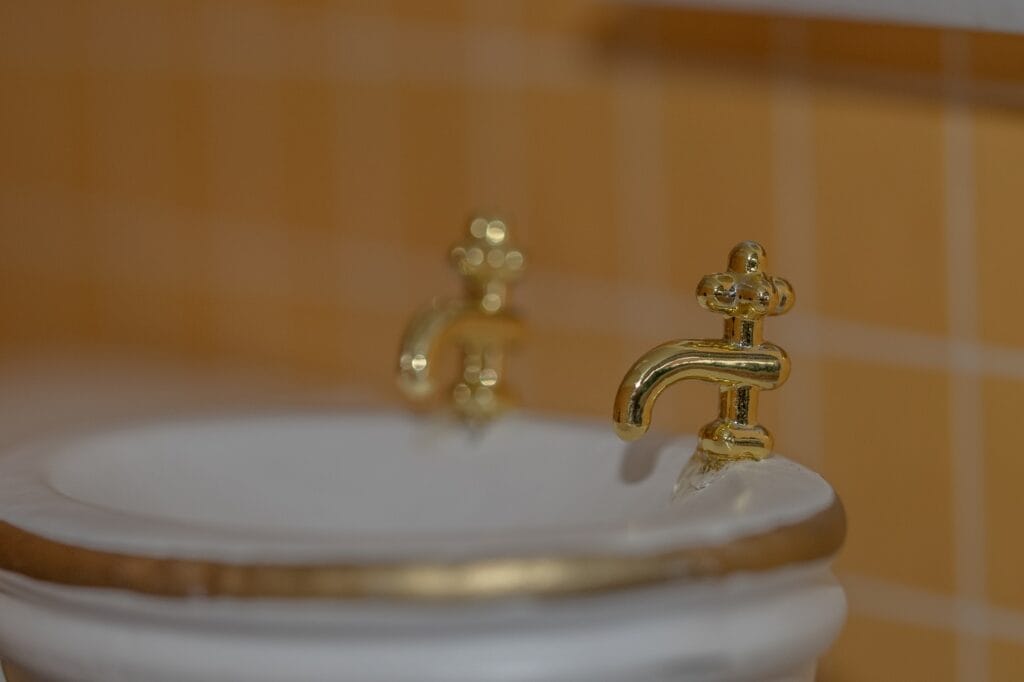 COMBINE ORGANIC AND MODERN - 10 BATHROOM INTERIOR DESIGN
When a combination of modern and organic is used, a clean and elegant atmosphere is created. For example, wood and glass alignment is one of the most beautiful options.
In the photo we see a shower placed between the heat of the wood and the brightness of the ceramic and glass tiles. A combination of complementary ingredients that are easy to care for. Modern but unpretentious composition.
The balanced of this atmosphere can be achieved by combining classic and modern, minimalism and warmth, innovation and nature.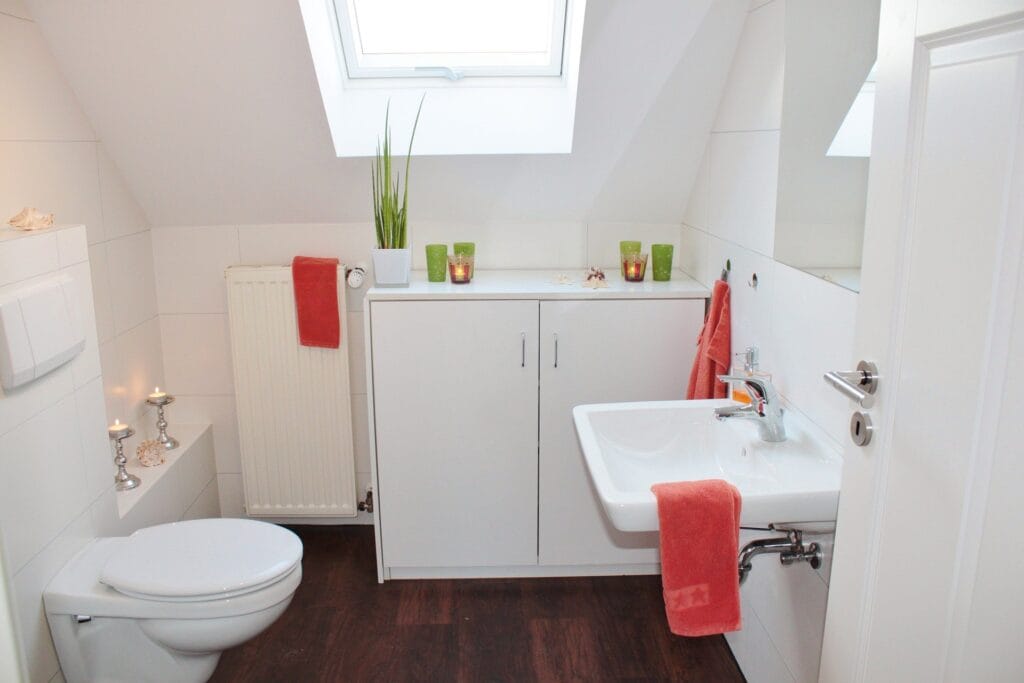 LIGHTING - 10 BATHROOM INTERIOR DESIGN
Large mirrors are common in modern bathrooms. Currently the type of format is seen: square or rectangle with rounded corners.
Statement powder space is not a new thing, with the continuous advancement of lighting technology, it is able to integrate lighting into architecture in an increasingly attractive and effective way.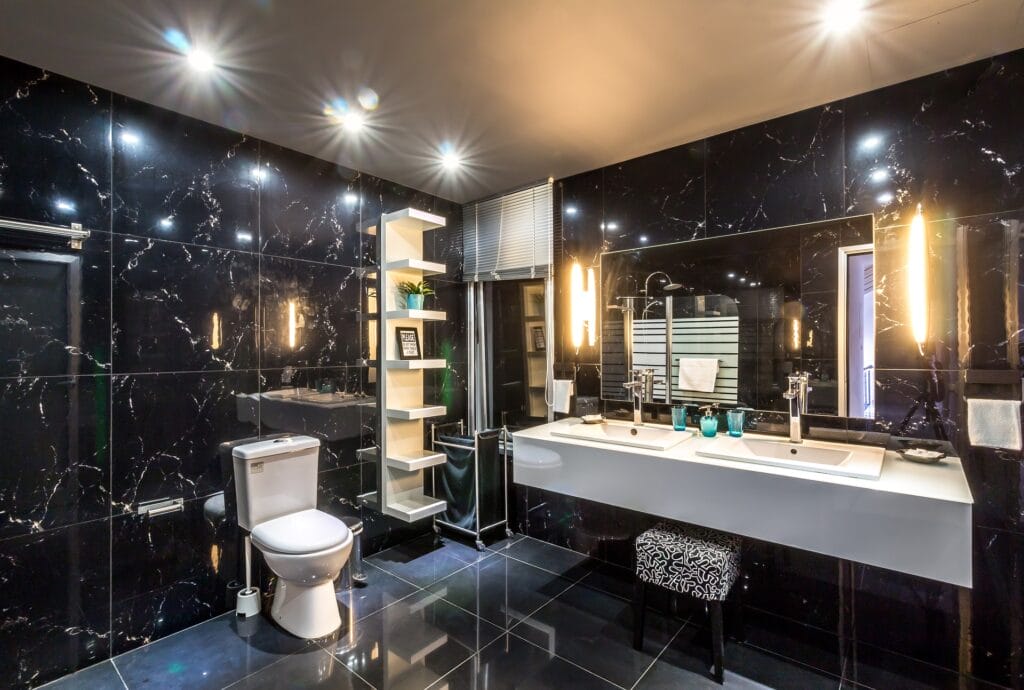 PLANTS - 10 BATHROOM INTERIOR DESIGN
This was a trend last year and will continue. Indoor plants bring outdoor beauty and are an integral part of bathroom design. This is not a simple accessory, but an inseparable element, which can be changed with the seasons.
Plants in the bathroom are not only stylish, but also give a beautiful touch to the design.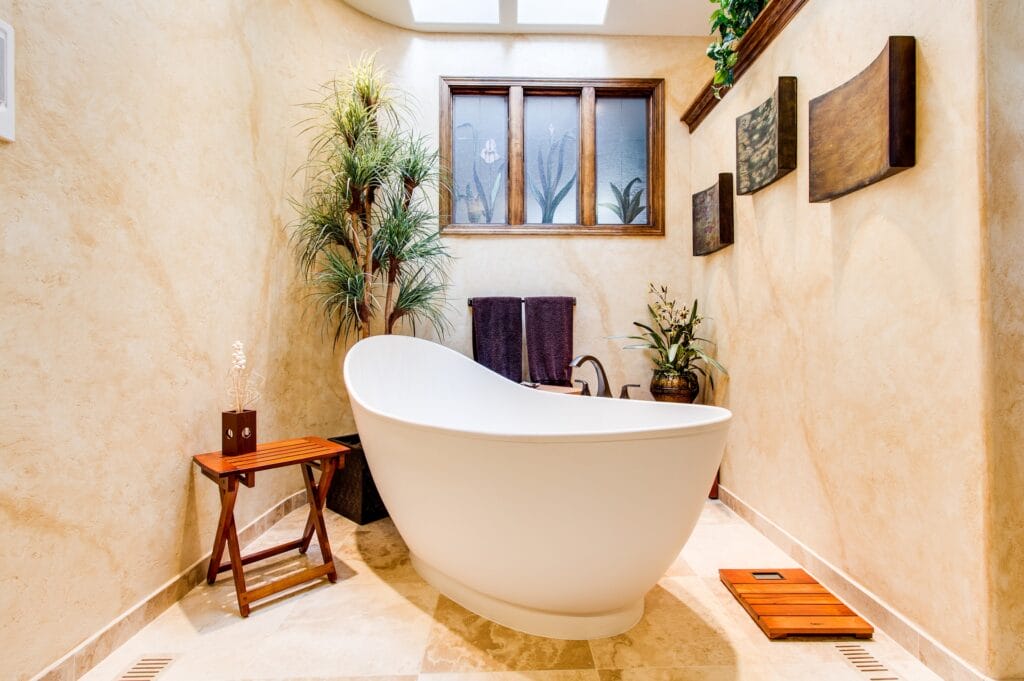 INDUSTRIAL STYLE - 10 BATHROOM INTERIOR DESIGN
Industrial design is on the rise. Use cement, sandy or fine like silk if you choose a polished finish, not just on the bathroom floor, but as a wall finish.
But keep in mind that concrete can make a space look cold and hard. The introduction of contrasting textures such as wood, natural fibres and plush bath mats and towels will help soften the look and add comfort.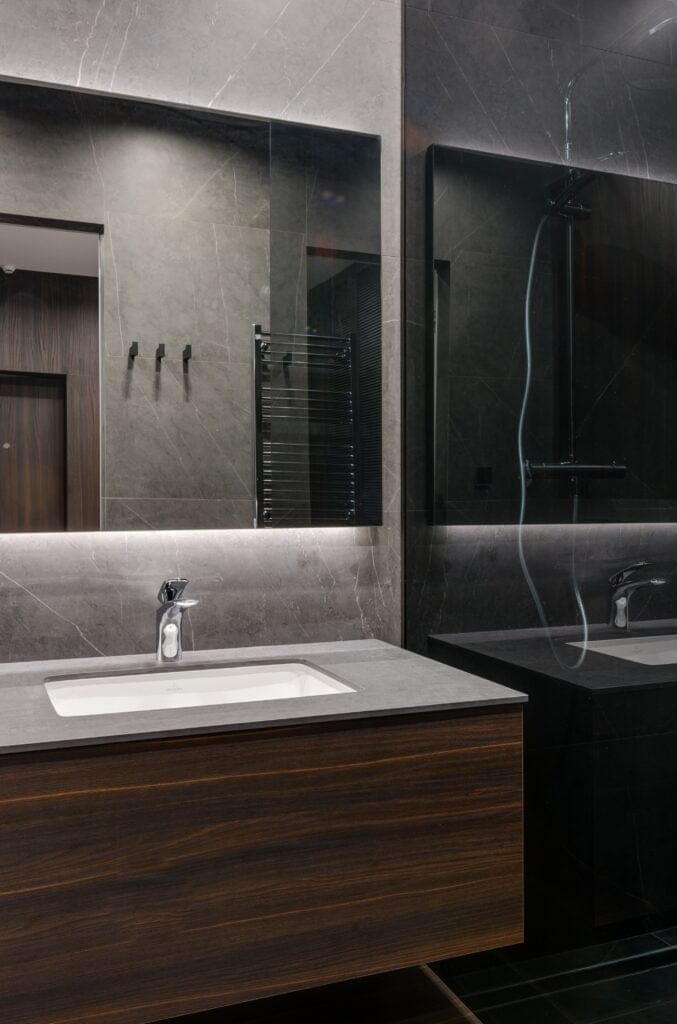 MINIMALIS - 10 BATHROOM INTERIOR DESIGN
The minimalist bathroom involves the use of simple lines and some decorative elements.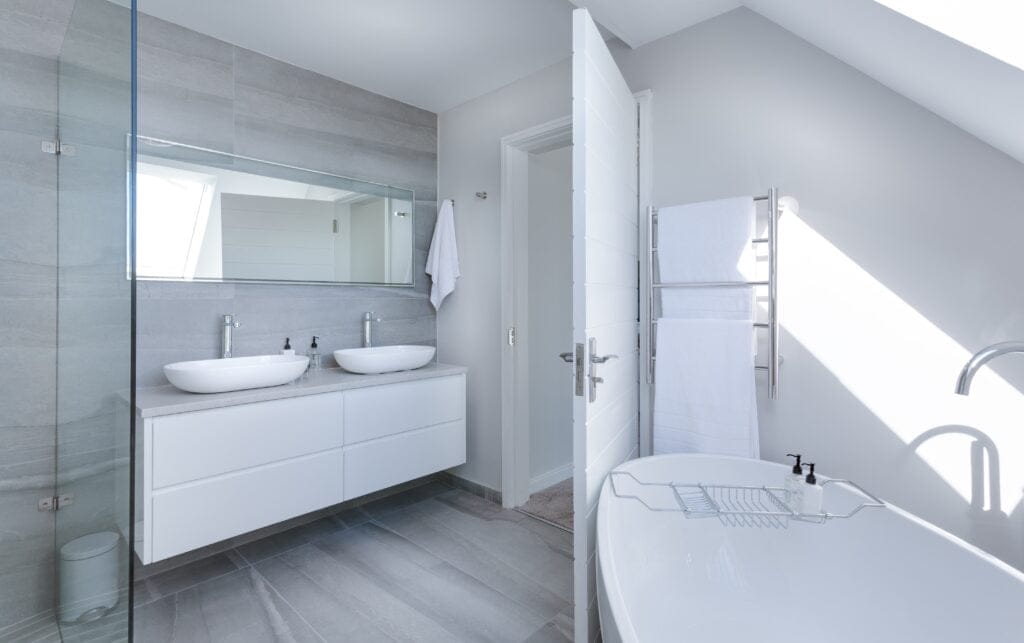 DARK COLOR - 10 BATHROOM INTERIOR DESIGN
Dark colours make a great comeback in the interior design fashion scene this season. One of the trendiest colours of the season, as an accent in its details, will definitely be black. This colour doesn't necessarily look dull, it works very well with a variety of colours and tones.
Matte surfaces, whether in earthy or neutral colours are on the rise? You can use these colours to match darker greys, and introduce some contrast to the overall colour scheme.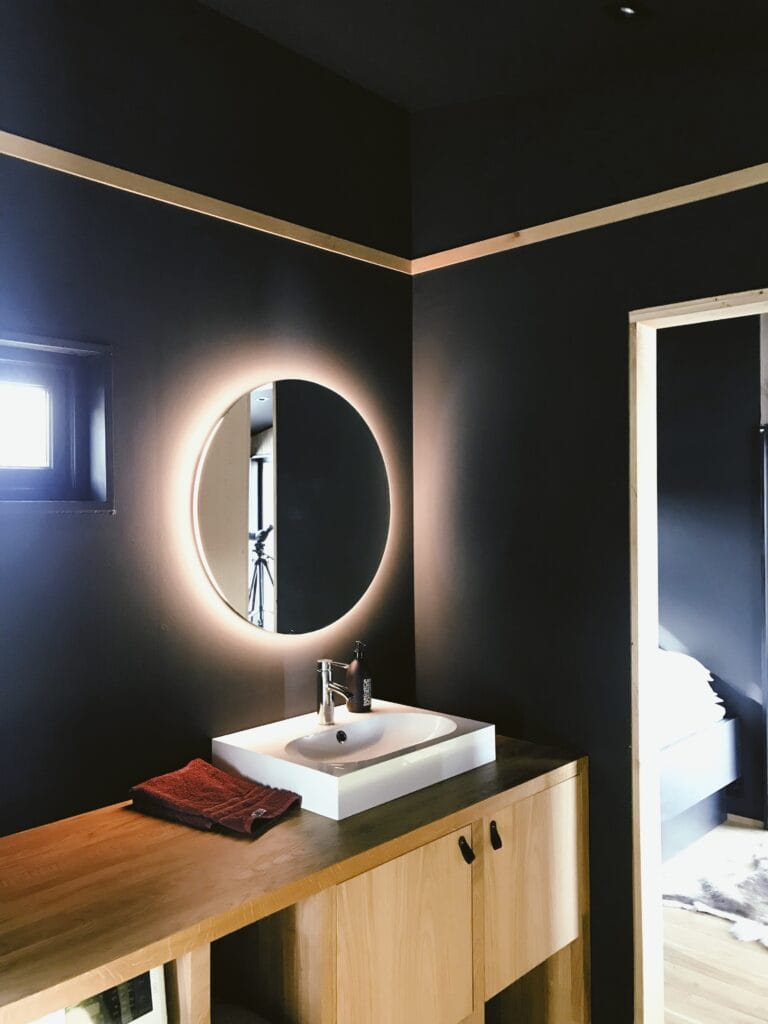 GREEN, BLUE OR PASTEL GARDEN - 10 BATHROOM INTERIOR DESIGN
You can also use blue or pastel green to give it a touch of colour.
Cool tones from green blue and pastel create a calm environment, and will be a trend around 2021. Some of the best options for fresh colours are blue and emerald green. It is combined with touches of white and wood to give a fresh feel, with metal details and rustic materials for a more sophisticated design.